BREAKING: Israeli Blast Destroys Another Hezbollah Weapons Cache…in Southern Lebanon
Video of Explosion in South #Lebanon at this hour, in town of Ayn Qana.

Early reports indicating gas station but now pointing to #Hezbollah weapons depot: pic.twitter.com/geE35SfOC8

— Joyce Karam (@Joyce_Karam) September 22, 2020
מקורות בישראל: הפיצוץ בעין קאנא הוא הפעולה הישראלית השנייה (לאחר נמל ביירות) ולא האחרונה, נגד מחסני הנשק של חזבאללה
مصادر في اسرائيل: تفجير عين قانا هو ثاني استهداف اسرائيلي (بعد مرفأ بيروت)، وليس الاخير، ضد مخازن اسلحة حزب الله
Israel's new tactic of choice in its battle against Iran and Hezbollah appears to be the well-placed bomb (or drone attack). Over the past few months the Mossad, together with its MeK allies, has bombed a uranium enrichment facility at Natanz.  Last month, I reported here that the massive devastation caused by last month's explosion at the Beirut port commenced with the bombing of a Hezbollah weapons storage depot for which the Mossad was likely responsible.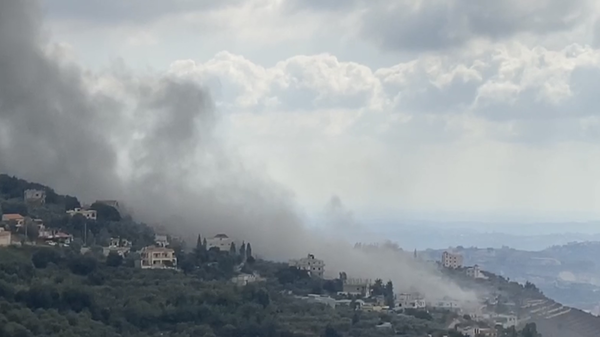 Today, there was a massive explosion at yet another Hezbollah weapons storage facility in southern Lebanon. My Israeli source, a government official, says that the latest attack was also initiated by Israel. He said: ""it was the second – but not last – operation in the series that began last month in Beirut, targeting Hezbollah's arms depots."
Lebanese media report that there were multiple Israeli over-flights of the area in the hours leading up to the attack.  This would imply that the explosion was caused either by a drone assault or a warplane.  The explosion at the port did not come from the air, but rather from a bomb planted in or near the arms cache.  Reporting Israel's involvement in today's explosion is under Israeli military censorship.
The interests of my source in leaking this to me and mine in publishing it are far different.  Israeli officials cannot at this point divulge their involvement due to censorship. But they'd love to take credit for this attack and put Hezbollah on notice about Israel's "fearsome" deterrent capability.
That is not my interest: mine is to show that Israeli deterrence has no short, medium or long term impact on this conflict. If Israel destroys an arms cache or an enrichment plant, they will build a bigger and better one in a few months or years. The conflict will not only continue, it will become even more lethal.  There are no military solutions to this conflict.
There may be elements in the Israeli or U.S. governments who believe that regime change is possible; or that Lebanon will somehow miraculously toss out Hezbollah and become the obedient vassal state Israel has always hoped for. But those are fever dreams of the neoconservative war hawk party.
In some sense, this is quite satisfactory for Israel's right-wing leadership. They need security threats in order to frighten the public into voting for them. They need to show they are protecting the nation from the enemy, even if many more Israelis die during this period of Cold War than would if these disagreements were resolved peacefully.
If Israel did negotiate an end to hostilities with its frontline neighbors, then the fear amongst Israelis would evaporate. They could then turn their attention to some of the deeper inequities and domestic problems facing Israeli society. This would lift the shroud of the national security state which has enveloped Israel since its founding.
The breast-pounding nationalist rhetoric of the Likud would prove far less attractive to the Israeli voter. Though it's doubtful voters would turn to the discredited pseudo-Left represented by Labor or even Meretz, they might be more open to the Left alternative offered by the Joint List.  They might even, heaven forfend, prove open to transforming Israel into a single democratic state for all its citizens. When the bogeyman is no longer at the door, many things once unthinkable become quite thinkable. The former Soviet Union provided this.  The toppling of the Berlin Wall and reunification of Germany proved this. The Northern Ireland pact proved this. It could happen there. Though certainly not under current conditions.