As Reps. Tlaib and Omar Head to Palestine, Netanyahu Caves to Trump and Prepares to Deny Entry
NOTE: I published a new piece for Al Jazeera on the campaign by Detroit-area pro-Israel Jewish leaders to defeat Rep. Rashid Tlaib in the next election.  I also did a video interview with The Real News Network on the demise of one of America's strongest Israel Lobby group, The Israel Project.  Please give them a read or a viewing and promote on social media.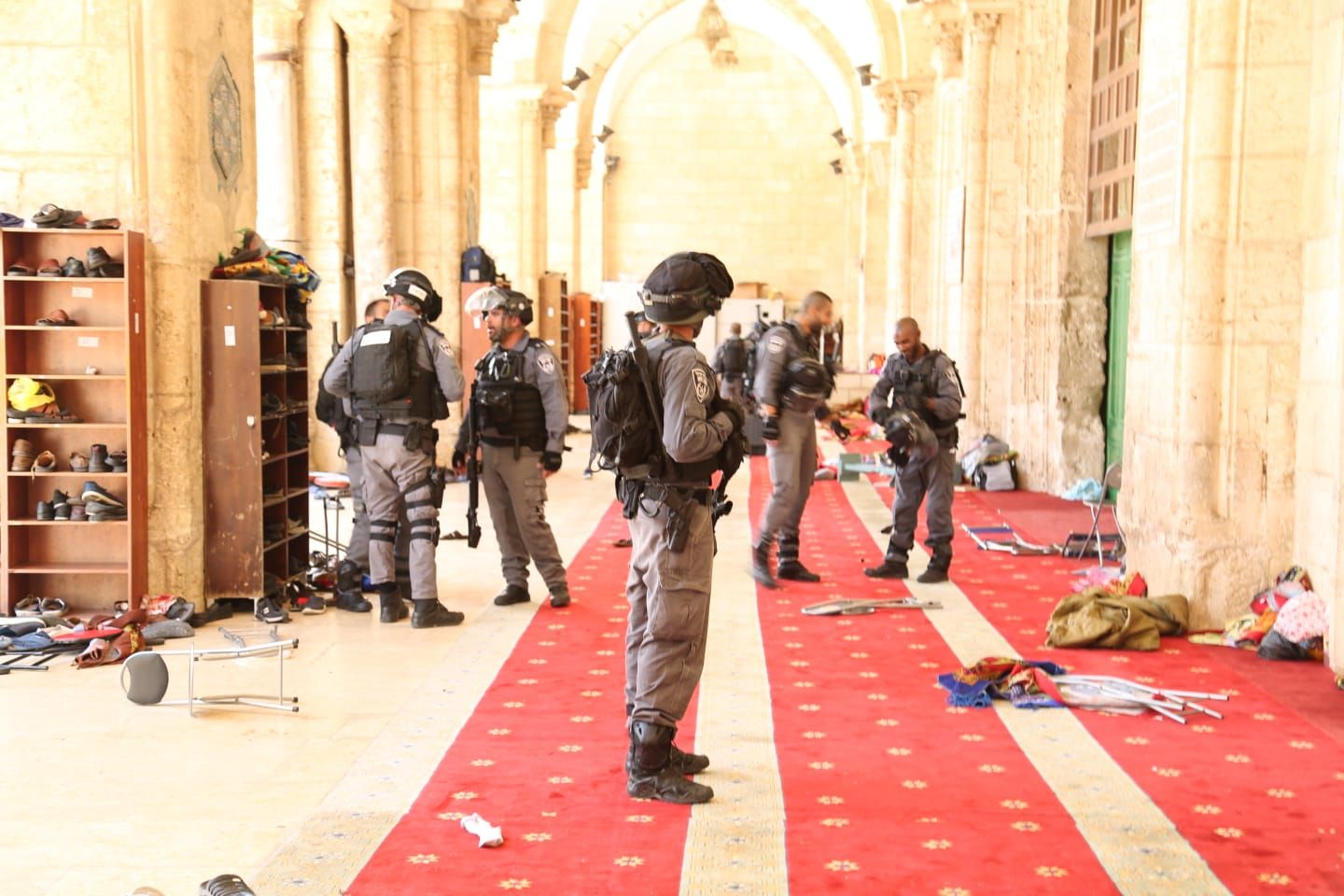 Israeli journalist Barak Ravid reports that Reps. Rashida Tlaib and Ilhan Omar will arrive in Palestine on Friday.  The account Ravid paints of the "preparations" for their visit is both pathetic and ludicrous.  You'd think Israel was preparing for the Second Coming or for Return of all of the Nakba refugees en masse:
Among the scenarios Israeli officials are now preparing for is a visit to the Temple Mount, or Haram al-Sharif.
Because of course, they'll demand to visit the Haram.  It is the third-holiest site in Islam and they are both Muslim (one is also Palestinian-American).  Can you imagine a Catholic House member visiting Rome and not visiting the Vatican?  An Irish-American visiting Ireland and not paying homage to St. Patrick?  A Franco-American House member visiting Paris and skipping Notre Dame?  Only for Israel does such a visit represent an existential threat to the nation:
…Last week, Israel's deputy national security adviser, Reuven Azar, held a classified interagency meeting to prepare for the congresswomen's visit.

The meeting was designated as highly sensitive due to the fact it took place while 41 House Democrats visited Israel.  Israeli officials briefed on the meeting said Azar asked the participants to keep the fact that the meeting had even taken place a secret.

When he concluded the meeting, Azar said "there is high probability" that Omar and Tlaib would want to visit the Temple Mount due to the fact both congresswomen are Muslim.  Azar instructed the Israeli police, who control access to the holy site, to ensure no Palestinian officials joined Omar and Tlaib on the visit.  According to Israeli officials, Azar stressed that "the preferred goal is that the congresswomen won't come to Israel at all" — and cancel the visit for their own reasons.
The goal here, of course, is to deny any validity to a Palestinian sovereign claim on Jerusalem.  Meaning that this Israeli government is in the full throes of Palestinian denialism.  Palestinians are not a nation, not a people.  They are a rabble of some sort, which can be "pawned off" on some other country like Jordan, as Kushner's idiotic deal of the century is rumored to propose.
As an example of such an Israeli attitude: on Eid al Adha, a Muslim holy day and the last day of Ramadan, Israel permitted settlers to enter what it calls the Temple Mount.  Such provocation is important to radical Jews who seek to rebuild the Temple, because Tishah B'Av, the Jewish holiday on which they entered the sacred sanctum, mourns the destruction of the ancient Temple.  Though the fast day is a day of mourning, it also looks forward to the future day when the TEmple will be rebuilt.  Given that the two mosques there were built on the ruins of the Temple, there is only one way to rebuild it: by destroying the Haram.  That, of course, would start a religious war the likes of which the region hasn't seen since the First Crusade.  This prospect not only doesn't phase the settlers, they long for the day so that the Forces of Light can finally eradicate the Muslim Forces of Darkness.  As it is, Muslim worshipers rioted in the face of this incitement, and Israeli Border Police were summoned and fired tear gas and beat the worshipers with nightsticks.  All before one of the holiest shrines in all Islam.  So much for the vaunted freedom of religion of which Israeli boasts to the world.
But in reports published after the Axios story above, both the Washington Post and Haaretz cast doubt, declaring that Netanyahu was leaning toward reneging on a pledge he supposedly made to Congressional Democrats, who bartered their delegation visit to Israel in return for permitting entry to Tlaib and Omar:
Democrats in Congress are quietly bracing for a new public fight with Israeli Prime Minister Benjamin Netanyahu after his government informed congressional leaders on Wednesday that it would formally announce that Reps. Ilhan Omar (D-Minn.) and Rashida Tlaib (D-Mich.) would be denied entry into Israel because of their support of a boycott movement against Israel, said several congressional aides familiar with the discussions.

But it is now unclear if Netanyahu will follow through on that decision after a private backlash from the Democratic leadership and some U.S.-based pro-Israel groups, who warned against barring sitting members of Congress from entering Israel because of their political beliefs
This should teach Steny Hoyer that a pledge from Netanyahu isn't worth the paper it isn't written on.  Now Hoyer can claim there was a deal and Netanyahu can deny it.  A perfect he-said, he-said.
If the prime minister denies them entry, it will be a major victory for Pres. Trump who, last week weighed in on the matter, declaring his disappointment that Israel would permit them to enter.  Netanyahu's relationship with Trump is so slavish and obsequious, this undoubtedly caused him to reconsider an agreement his own ambassador to the U.S. had brokered.
It remains possible that Israel will decide to permit them entry, but only on condition that they agree not to visit Al Aqsa.  This sort of restriction would be anathema.  But it might allow Israel to claim it hadn't barred them, but that they, in effect had barred themselves by rejecting a 'reasonable compromise.'
Returning to the Axios account and security preparations for the Congressional visit:
He added that if they do arrive in Israel, the goal is to "minimize as much as possible the damage to Israel in the U.S. political system and public opinion."
All representatives of all government agencies present at the meeting agreed that Omar and Tlaib should be allowed in the country in order to avoid harm to the U.S.-Israel relationship, the sources said.
I'd say that given that Israel's top security officials are running around like Henny-Penny warning that the sky is falling, the chances are that Israel itself will do damage to its own reputation in the U.S.  Here's a perfect example: while Israel will permit the two members of Congress, it will deport any Congressional staff member accompanying her who has voiced support for BDS.  This is the sort of guerilla harrying action that Israel contemplates in order to frustrate the plans of Tlaib and Omar for their visit:
Azar said Israel would assess the members of the delegation and decide whether to allow them in on a case-by-case basis, depending on their support of the BDS movement.

Azar instructed the Israeli Foreign Ministry to seek from the U.S. Embassy an advance list of delegation members in order to vet them in advance and notify those who would not be allowed to enter Israel.
Of course, they want such a list so that the Shin Bet and Strategic Affairs ministries can compile dossiers on all delegation members and research every word they've ever said or published on social media.  They do this not just for the purpose of this trip, but so they can build a database of U.S. political undesirables which can be monitored and updated over time.  This is the work of a police state, not a democracy.
As I wrote in a recent piece for Middle East Eye, this top-secret meeting was designed to keep the Congressional delegation guessing about what tricks Israel might have up its sleeve.  While it cannot blatantly insult or physically intimidate Tlaib and Omar, it can offer petty insults designed to provoke them into an overreaction.  I doubt they will take the bait.  They are tough.  And the taunts of petty officialdom will not deter them.  The motto for this trip will likely mirror Michelle Obama: when Israel goes low, we go high.