Israeli Gag Order Prohibits Coverage of Shin Bet Arrest of World Vision Gaza Manager
UPDATE: The gag order mentioned below has just been lifted.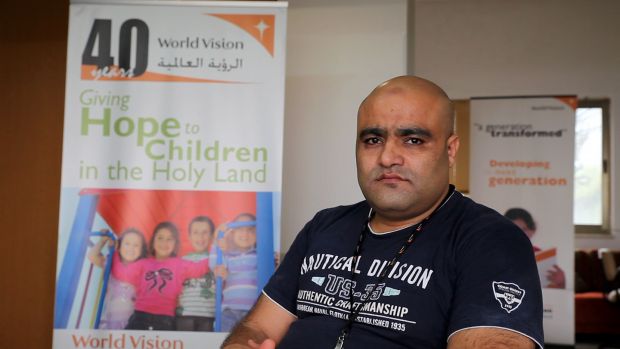 A few days ago, Think Progress reported that the Gaza manager for World Vision, the Christian NGO performing humanitarian work around the world, was arrested by the Israeli Shin Bet.  His name is Mohammad al-Halabi.  A gag order prohibits Israeli media from covering this story or naming the victim.  World Vision released a statement saying that he had been arrested on June 15th at the Erez checkpoint "on his way home from meetings."
The TP story doesn't say why he was arrested.  It does confirm standard operating procedure for the Shin Bet, which is that he's been in prison for a month and denied access to legal representation.  Though this is a violation of international law, it's the way Israeli security services always treat security suspects.
I've learned from an Israeli security source that he's being accused of "transferring large sums of money to Hamas."  That doesn't mean that he's actually done that.  It means that this is what the Shin Bet wants the world to think.  Though the story is under gag order, when it is lifted you'll read Israeli headlines along the lines of: "Christian Charity Officer Passed Funds to Hamas Terror Group."
My source could not elaborate on where these funds came from and how he transferred them to Hamas.
This is not the first time a Palestinian has been accused of passing funds to "terror groups."  Azmi Bishara, one of the most effective Israeli Palestinian leaders, was driven into exile by similar charges that he used moneylenders to launder tens of thousands of dollars on behalf of Hezbollah.
If al-Halabi is innocent of the charges there might be many reasons for the Shin Bet to target World Vision in this way.  First, it is engaged in an intensive series of humanitarian projects designed to improve the lives of Gazans.  Israel's goal is to make the lives of Gazans a living hell.  Hence, the occupiers of Gaza would want to frustrate any organization engaged in successful rehabilitation or renovation projects there.
Israel is treading on very dangerous ground in arresting a World Vision manager.  It is one of the most popular and pervasive humanitarian NGOs in the world.  As TP notes in its article, Christian Zionists are one of the few remaining groups in the world which offer Israel unstinting support.  To directly assault a group that is so highly valued among American evangelicals is a highly risky venture.
The charges made against al Halabi seem preposterous on their face.  If you were to believe the Shabak, a senior manager of World Vision has been a Hamas operative for over a decade and underwent military training under the Islamist group's auspices.  In 2005, Hamas planted him in the organization and directed him to loot its coffers of "tens of millions of dollars" and transfer the funds to Hamas.  This amounted, if one believes the security services, to 60% of the budget of the Gaza office.  The money was used by Hamas to fund its military wing, specifically to build tunnel infrastructure.
Among other charges against al-Halabi is that he created programs to aid Gaza farmers near Israel's border.  But that in reality he was using the project to establish surveillance outposts for Hamas along the border.  Here again, is another reason Shin Bet would want to frustrate such projects.  It would not wish to see thriving agricultural operations on the border.  It would rather see this area open and barren in order to improve Israeli reconnaissance and surveillance.
Al-Halabi's family has worked for various UN agencies in Gaza for a long time.  Knowing Israel's hostility toward the UN, it would be a feather in Israel's cap if it could prove that a former UN worker was essentially a terrorist plant.
In the noirish script that Shabak wrote such shenanigans may be possible.  But not in the real world on a major international relief organization.  First, they vet their staff carefully and would not allow a member of the Hamas military wing become a senior manager.  Second, they have strict budgetary and fiscal protections in place that would prevent anyone from such a large-scale theft.  Third, it's almost impossible that World Vision's Gaza office would handle "tens of millions of dollars."  Given that the Israeli police raided World Vision's Jerusalem office, it's possible they're claiming al-Halabi stole from this office as well.  But given that he didn't manage this office, it would be hard to imagine how he could pull off such a feat.
Thus, the charges not only strain credulity, they break it.