Bernie, Reinstate Simone Zimmerman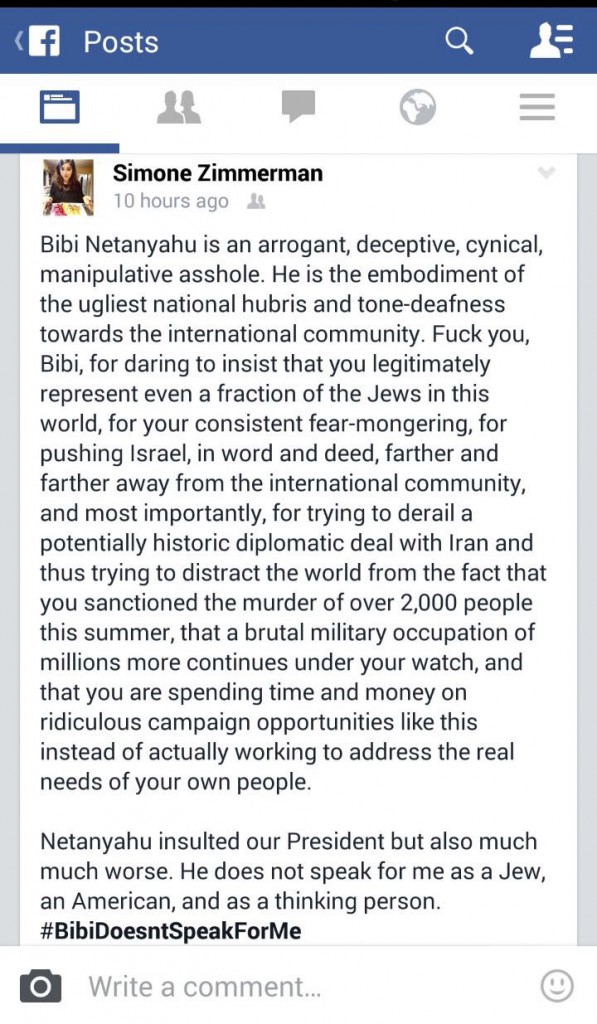 Bernie Sanders just made a bone-headed move.  Two days ago, he hired Simone Zimmerman, past national student president of J Street U, a liberal Zionist lobbying group closely affiliated with the Democratic Party. Apparently, Zimmerman over a year ago posted a few feisty things about Bibi Netanyahu (oh my gosh, she even said "Fuck you, Bibi!") and some of Israel's more egregious Occupation policies.  Nothing she said was remotely untrue.  In fact, everything she said is in the best tradition of liberal Zionism.  But being a young Jew and college student she expressed herself boldly, perhaps even brashly.
For that, the pro-Israel, largely Republican 1% is calling for her scalp.  Abe Foxman, that dinosaur of the Jewish establishment wanted her canned.  Ronald Lauder, head of the World Jewish Congress joined him.  Malcolm Hoenlein expressed satisfaction that Bernie slapped her down.
But that's to be expected.  Anytime, the Washington Free Beacon (aka "Free Bacon") grabs hold of a trashy headline, you can expect the pro-Israel witches will circle round the bubbling cauldron expecting a tasty dish of roasted self-hating Jew.  The article was written by Noah Pollak, an acolyte of Bill Kristol.  He's a close pal of Eli Lake and those other Zio-scribblers (aka journalists) the Lobby makes such good use of.  Since when does the left allow Breitbart, Drudge or "Bacon" to manage our politics?  Since when do we cower in the face of their assault?
My question is, why should this concern Bernie?  If anyone should attack him, wouldn't it be these trogdolytes?  If Bernie says he's proud to earn the enmity of Jeffrey Immelt and the CEO of Verizon, why shouldn't he be equally proud to earn the enmity of the moth-eaten, moribund pro-Israel establishment; almost all of whom are, by the way, associated with the robber barons of Wall Street and environs.
There are a few reasons Bernie has to tread carefully: he has his eyes on the bigger picture.  He's clawing tooth and nail for the New York vote ahead of the primary this coming week.  He knows New York is home to an especially vocal pro-Israel community.  He's worried l'affaire Zimmerman will distract from his momentum in New York.  I get that.  That's why I'm glad he refused to fire her and only suspended her.  Sign the petition demanding that Bernie reinstate Simone.
But someone in Bernie's camp better realize that Simone Zimmerman is a sacrificial lamb.  That the "Bacon"-eaters of the Israel Lobby don't give a fig or pork rind about her.  It's Bernie's scalp they want.  So throwing her overboard will only embolden these pro-Israel bullies.  Don't do it.  Get Zimmerman back on staff where she's needed as Bernie heads into the California primary, her home state.
Bernie needs to understand that the young people he appeals to are bold and brash, just like him.  They like him because he doesn't mince words.  He doesn't triangulate.  He tells it like it is.  That's who Nicole Zimmerman is as well.
Would Bernie prefer Young Republicans working for him?  Smooth-talking, prim and proper youth who know their place?  He must know that if he wants the youth vote he's going to have to accept that they have a few rough edges, as all young people do (I have a 14 year-old son, I know).  But despite those rough edges, aren't young people the heart of our future?  Don't we want to embrace and nurture their passion and fire?
A closing note is in order.  Readers here must know that I fundamentally disagree with J Street and do not support it.  I'm sure if I spent any time talking to Simone Zimmerman about Israel our views would diverge at some point.  But that's not the point.  The point is that the pro-Israel fat cats are trying to dictate Bernie's strategy and we mustn't let them.  I oppose bullies just as I oppose injustice, whether the victim is a Palestinian or a former J Street student leader.