Breaking: Israeli Jewish Mob Lynches Eritrean, Mistaking Him for Terrorist
NOTE: Please read and disseminate my new Mint Press piece, Israel Escalates Tensions With Execution Style Force, on social media.  In a piece of delicious irony, Google's algorithm placed a recruiting ad for the Israeli police force on the web page for my article!
Ynet reports that in today's shooting at the Beersheba bus station, in which a Palestinian man killed an IDF soldier and wounded ten others, an Israeli Jewish lynch mob murdered an innocent Eritrean man who was not involved in the attack.  They did so after security guards shot and wounded him in error believing him to be a second attacker.
Electronic Intifada reports that the attacker was Isam al-Araj, of the Shuafat refugee camp in East Jerusalem.  It also reports that the African man lynched was Hafton Zarhoum.  EI says that the security guard who wounded Zarhoum claimed he suspected the man of involvement in the terror attack because he ran toward him instead of away, as all the other survivors did.  But video of the shooting shows that the Israeli was lying.
Here is video footage of the attack and its aftermath:
Ironically, the victim had come to Beersheba to secure a visa, a golden ticket for African refugees seeking a safe haven in Israel.  It goes without saying that he had very little chance of success given Israel's absolutely allergic reaction to the plight of these refugees.  This killing saves Israel the trouble of yet another rejection.  Though if Zarhoum has any family in Israel, the immigration authorities would be advised to grant immediate visas to them.  Either it will because it sees hasbara advantage in showing mercy; or it won't because it's locked into its racialist narrative that Israel is for Jews only, not Africans (or Arabs).   There are a raft of reasons for Bibi to stiff-arm any survivors.  Mainly because the Likud heartland hates African refugees and showing decency to any of them, even ones who've suffered like this, will not win points.  Time will tell which option Bibi chooses.
Israel is fully aware of how damaging this incident will be to its reputation.  As a result, it slapped a gag order on reporting about it.  This is the method of choice by security services when they seek to tamp down controversy and embarrassment.  Frankly, given how huge this story is I don't see how they can succeed.  But I guess you have to give them "credit" for trying (if you're as willing to suppress a free press as they are, that is).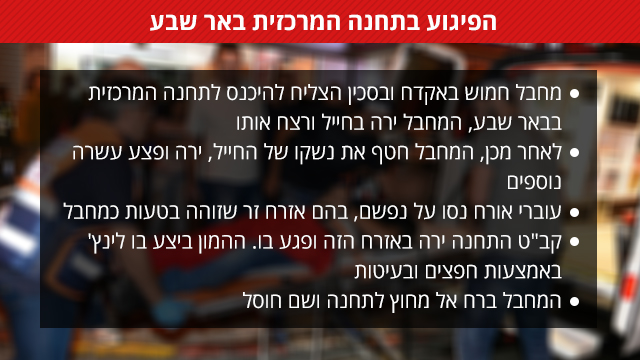 Most international media outlets are reporting that the security guards wounded the Eritrean man. Very few are reporting that after he was wounded an Israeli Jewish mob actually killed him, kicking him in the head, throwing chairs at his head, shouting that he was a terrorist and should be killed, etc.  They egged each other on as lynch mobs do.  This is what latter-day Israel has become.  Yet another example of rampant Israeli racism by which Israeli Jews see the world as enemies based on color, religion and ethnicity.  In effect, they are continuing the same racialist approach advocated by Hitler and the Nazis toward Jews and other "undesirables."
As EI reported, none of the attackers will ever be charged.  Why charge a Jew with murder for attacking an African, one suspected of terrorism?  It will be chalked up to the current round of parnoia infecting Israel.  A terrible error.  How unfortunate.  But we know we are good people at heart.  We just get carried away in the heat of the moment.  And who can blame us with these animals assaulting us in the street?
To give you some notion of just how high the level of paranoia is in Israel, this image features senior Israeli government minister, Naftali Bennett, leader of the far-right Bayit Yehudi Party, packing a pistol (h/t Alon Lee-Green).  He's the friggin' education minister ferchrissakes!  Let's arm every school kid with his own personal Glock, why don't we?  Can you imagine Arne Duncan or any U.S. cabinet secretary doing something like this?  Or a British cabinet minister?
What does it say about this place?  This society?  It's an armed camp.  Just waiting for the animals to come out at night.  Like a scene from Night of the Living Dead.
Bibi: Israel is the "Solution"
On Friday, France proposed sending international observers to the Noble Sanctuary in order to lessen the level of tension and hostility between Jews and Muslims.  Israel fears any international intervention in its affairs because it knows the world despises its current militaristic approach.  It knows that any negotiated solution would involve compromise on its bedrock rejectionist ideological principles.  Bibi Netanyahu angrily denounced the plan saying: Israel in not the problem, it is the solution."  If murdering 45 Palestinians in three weeks, 11 of them children, is a 'solution,' I would hate to see what his idea of "the problem" would be.
His language in this statement unintentionally echoed another "solution" to an ethnic conflict proposed in Europe 70 years ago.  It's no secret that Israel's far-right leadership is yearning for a final reckoning with Israel's Arab minority.  Whether by annihilation, ethnic cleansing, apartheid or death-by-a-thousand-cuts–all means suggested by various Israeli leaders–Palestinians fear the worst of Israel.  They foresee the destruction of the Haram al Sharif and its replacement by the Third Jewish Temple, just as happened in India during conflict between Hindus and Muslims.  They fear the widespread religious holy war that would ensue.  No amount of protestation from Netanyahu and his fawning ministers can persuade them otherwise.
As I reported in my latest Mint Press story, Miri Regev, Israel's culture minister (when she hears the word "culture" she reaches for her gun), said a year ago that she favored dividing the Temple Mount so that Jews would have permanent access to it for prayer.  The minister who wrote the hasbara garbage linked above, Gil Erdan, himself praised, in an Israeli radio interview, his supervision of the Temple Mount. boasting that the number of Jews visiting had increased and that six times fewer Muslims had been able to make the pilgrimage.
Ahmad Mansara: Hasbara Tool
Israel's position towards the Palestinian insurrection is built on a tissue of lies and self-deception.  Take, for example, the case of 13-year-old Ahmad Manasra who, with his 15-year-old cousin, Hassan, viciously stabbed a 13 year-old boy in the occupied Jerusalem settlement of Pisgat Zeev.  Police immediately murdered Hassan.  Ahmad was struck by a settler vehicle and disabled, with both legs broken.  While lying on the ground suffering in pain, with Israeli medical personnel refusing him treatment, a settler shouted invective at him, cursing his mother and telling police to finish him off.
Ahmad was brought to Hadassah Hospital where he promptly became a hasbara football, despite the fact that he was a minor and subject to strict Israeli laws protecting the privacy of minors, even those suspected of crimes.  After Mahmoud Abbas confused Hassan, who was murdered, with Ahmad, who was only severely injured, the Prime Minister's Office sent a staff member to Ahmad's hospital room, where he lay chained to his bed (another violation of Israeli law concerning minors).
The government engaged in two bits of inexcusable subterfuge and bullying to get his picture.  Publishing the picture or the name of a minor suspected of a crime is illegal and subjects the violator to a year in prison.  Hadassah tried to get itself off the hook by claiming the health minister "forced" it to permit a picture.  Under Israeli law no citizen and certainly no minister can force anyone, let alone a hospital charged with upholding not only the law, but the code of medical ethics, with violating the law.  Certainly the minister had leverage over the hospital because he controls the budget and purse strings.  So the institution would have been vulnerable had it refused.  But by caving to such pressure and violating the law, it left its reputation sullied and itself subject to legal liability.
Ahmad's lawyer, who was in the room when the PMO's staff entered said the individual had no camera.  He states that the picture was taken with a hidden camera.  Another bit of flim-flammery of which Netanyahu is eminently capable.  The police have refused to permit Ahmad's parents to visit him in the hospital–a 13 year-old boy!  That's not illegal by the way.  Parents have no rights to see a child in the hospital charged with a crime.  But I doubt the law took into account that the accused might be a little boy.
An Israeli attorney with 15-years experience in child welfare law says that the way the authorities will "fix" the problem is by going to the two Jerusalem child welfare judges (both of whom are right-wing Orthodox Jews) and retroactively approving the photo and its publication.  In Israel, judges have the right to permit such privacy violations, though they must do so beforehand, not after.  This is yet another example of what this same attorney said of the Supreme Court: it turns treif bugs into a kosher meal.
The government released the photo and Manasra's name to the world media in order to embarrass Abbas and show him up for his mistake.  But where is the embarrassment?  Hassan was indeed murdered.  The only thing Israel can be "proud" of is that the settler merely rammed a car into Ahmad and broke his legs instead of killing him in cold blood.  Is that something to be proud of?
The hasbara brigade in the comment threads and on Twitter has argued essentially that Ahmad doesn't deserve any of these rights.  He nearly murdered an Israeli boy.  He has it coming to him.  The problem with this attitude is that Israeli law makes no special provisions for Jewish suspects in a case like this.  There is no difference in the eyes of the law between an Israeli and Palestinian minor, regardless of what they've done.  But the fact that Netanyahu has made a fool of the law, confirms Israel as an apartheid state drenched in racism.  Not to mention that this government makes a fool of the law.
The lawyer I mentioned aboveת also told me that Ahmad cannot now be incarcerated at all since Israeli law says minors may not be for crimes they commit.  But the prosecutor will skirt this aspect of the law as well by waiting until he turns 14, and then trying and sentencing him (after age 14, children may be incarcerated). Another way to turn pork into sirloin!
Further, once he is convicted he will go into a youth detention center.  If he were an adult, he would go into prison in a segregated facility, with Israeli Jewish criminal separated from Palestinian security prisoners.  This is intended to ensure the safety of the Palestinians, who would otherwise be attacked and killed by Jewish prisoners.  In juvenile jail, Ahmad will have no such protection.  He will be subject to the attacks of the young Jewish criminals in the facility.  And even if the prison authorities isolate Ahmad, he will have no one else with whom to interact.  In essence, he will be in solitary confinement.
I predict that either we will hear of Ahmad's murder within six months; or on completion of his prison sentence he will be a catatonic mess.  Most Israelis will be entirely pleased with either outcome.
I was interviewed earlier this evening on PressTV and was able to break the Israeli gag order censoring any reference to Asmaa Hamdan, the woman placed in administrative detention for texting her parents she wanted to die defending Al Aqsa.  This is the equivalent of killing a flea with a sledge-hammer.
If you are Israeli or Palestinian, please circulate this video on social media.  Make Asmaa so well-known that it will shame the Shabak into ending the gag order and thus give Asmaa back her name and identity and self-respect.