Bibi Exploits U.S. Congress for Naked Political Advantage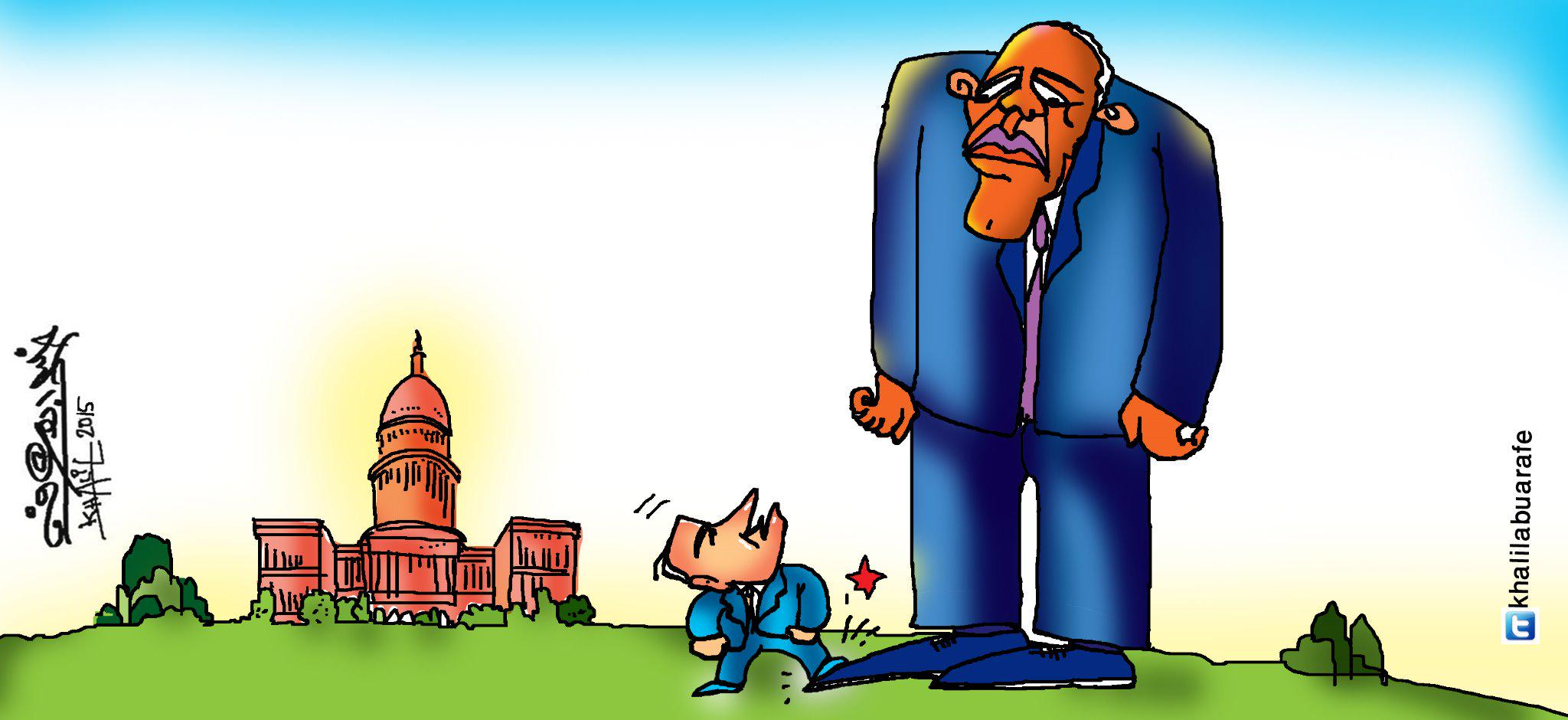 Bibi Netanyahu, in wangling an invitation to a second address to a joint session of Congress, is doing what comes naturally.  Exploiting his tactical political advantages to perfection while blowing all to hell any higher strategy that might advance any other than his own narrow personal political interests.  In this, he was aided by his political enforcer and now ambassador to the U.S., Ron Dermer.  Dermer isn't a diplomat.  He a political conniver: his Lee Atwater to Netanyahu's George Bush.  Even before I read that Dermer had orchestrated this cheap trick, I knew he was the instigator.  It had his fingerprints all over it.
Here is their Likudist thinking (such as it is): we have several interests that all triangulate nicely here.  We have an election in which we have to outshine our opponents.  What better way to do that than to beam the PM's speech live into every Israeli household two weeks before the election, in which he addresses America's most powerful lawmakers who dutifully sit before him in awe and respect?  We have the P5+1 powers negotiating diligently a nuclear deal with Iran which promises to take away from Mr. Security one of his key saber-rattling tools: alleged Iranian WMD.  In the aftermath of such a deal another Netanyahu hallmark, the economic siege of that country, will eventually unravel, likely showing the Israeli's policy for what it was: an ineffectual sham.  In the longer term, Bibi, who never forgets a slight, even from a U.S. president, will have a chance to thumb his nose at a president he detests by addressing Congress as if it was the nation's executive.
If you're looking for hypocrisy here, we have it in mega-doses.  Back in 1996 just before Israeli elections, the Clinton administration invited then-Israeli PM Shimon Peres to address a counter-terrorism panel it had organized.  Bibi, running against him as Likud Party leader, was in high dudgeon as he said this:
"I can't find an example of any previous Israeli government whose prime minister, on the eve of elections, made a cynical attempt to use relations between Israel and the United States as a party advertisement,'' Netanyahu said at the time.
It matters not a whit to the Netanyahu camp that the current invitation was extended in an underhanded way that violated Congressional protocol.  It doesn't matter than Democrats weren't consulted (they likely would've argued strongly against the invitation as a slap at their President) nor had any role in the invitation.  Indeed, Dermer and pals even lied claiming the invitation was "bipartisan."  They're used to doing this in Israel. Lie in the morning, lie in the evening.  Lie so many times people ignore your transgressions.  The lie only has to have the half-life of one news cycle.  By the time the truth catches up, you've moved on to the next lie.
Such manipulation gives the lie to the Aipac claim that the Lobby is bipartisan.  In the case of this Israeli government, it is nakedly partisan.  After all, Netanyahu made a TV commercial used by the GOP during the last presidential election.  Bibi and his political amanuensis, Dermer, are partisan through and through.  They have absolutely no need or interest in the niceties of bi-partisanship.  They treat politics as a zero-sum game.  You give no quarter to your opponents.  You hardly give quarter to competitors in your own nationalist camp.
Luckily, Obama and Kerry aren't showing quite their usual spinelessness in refusing to meet with Netanyahu during his visit.  It would be like Bibi spitting in Obama's eye and then making him swallow it.  Even that is too much for the President to bear.  Obama also promised in his State of the Union address, a shot across both the GOP's and Bibi's bow, that he will veto any added Iran sanctions passed by Congress.  This too is another show of fortitude we've rarely seen from this President.
All of this means that twice in the past two weeks Netanyahu has manipulated circumstances to barge uninvited into sensitive political processes of a nation against the wishes of its president (France and the U.S.).  In both instances, Bibi came off as a grasping, desperate figure with a manic need to be in the spotlight, even if it only highlighted his shamelessness and other nasty qualities for all the world to see.  In this instance, he will grasp the glory of a joint Congressional address, leaving half the political leadership of the country seething at him.  And to him it won't matter a whit.
Israel's most important columnist, Nahum Barnea, had this to say about Bibi's sheer effrontery:
Netanyahu is taking it one step further…There has never been a deal like the one struck here: The American Republican Party is intervening in our elections, and in return an Israeli party is intervening in their politics. They are helping Netanyahu beat his rivals here, and he is helping them humiliate their rival there. It's dangerous. It's poisonous. It's not so amusing anymore.
Returning to my comparison between the Paris march debacle and the Congressional speech, the French president warned Bibi that if he scorned the directive not to attend the march and funeral, that Israel would remain in the doghouse for the rest of Hollande's presidency.  Now, Congressional Democrats have told Barnea the same:
I heard voices in the administration on Wednesday which I had never heard before. We must make it clear to Netanyahu that such a behavior carries a price, they said. We must make it clear to the Israelis that their prime minister is losing a vital friend for a short-term political gain.
In this too, Bibi has made the proper short-term political calculations.  At best, the GOP will win the presidency in 2016.  At worst, a Democrat wins.  If the latter, then it will be Hillary Clinton.  Bibi knows he has Hillary in the bag.  Her biggest donors are Aipac stalwarts like Haim Saban who, besides being a huge political donor, is likely an Israeli intelligence asset, as Arnon Milchan was.  Look at it from Bibi's point of view: how big a price will it be?  He bets on the fact that political candidates need pro-Israel money far more than they care to avenge their wounded pride.  He may be right.  Betting against the Lobby has been a losing proposition for far too many good people in the past.
The danger is that gradually, over an extended period, these tiny dings in the Lobby Lamborghini begin to add up and it starts to look like a "beater."  Will all the chicanery accrete over time?  Will the disciplined support and fear the Lobby instills begin to wane?  Not yet.  But perhaps sooner than Bibi realizes.  Odds are that by the time Israel hits rock bottom in American politics Bibi will be far removed from the political limelight.  Then he won't care.  He'll have written his memoirs, gotten his $5-million book advance, and joined the UJA-Lobby fundraising gala circuit commanding $100-thou a pop for his pearls of chochmas.
Speaking of second careers, I can foresee Ron Dermer's.  He exploits the connections he's developed among Congressional Republicans to open a political consulting shop with offices in DC and Tel Aviv.  He'll become the political guru to Republicans with large Jewish electoral bases and he'll pick and choose the Likud young bucks on whom he wants to bet their political futures.  With any luck, he'll find winning horses on both sides of the ocean and ride them to riches and power.  There are American consultants who already do this: Stanley Greenberg and Arthur Finkelstein.  But they're carpetbaggers compared to Dermer, who has spent decades in the Israeli political trenches, but who also has an American Jewish pedigree that helps among the GOP here.  Ah yes, I predict a bright political future for that young man.  He'll go far–in infamy and amorality.