Gaza War, Day 15: 28 IDF Dead, Nearly 600 Palestinian Dead, Bibi Derides Hamas' "Telegenic Dead"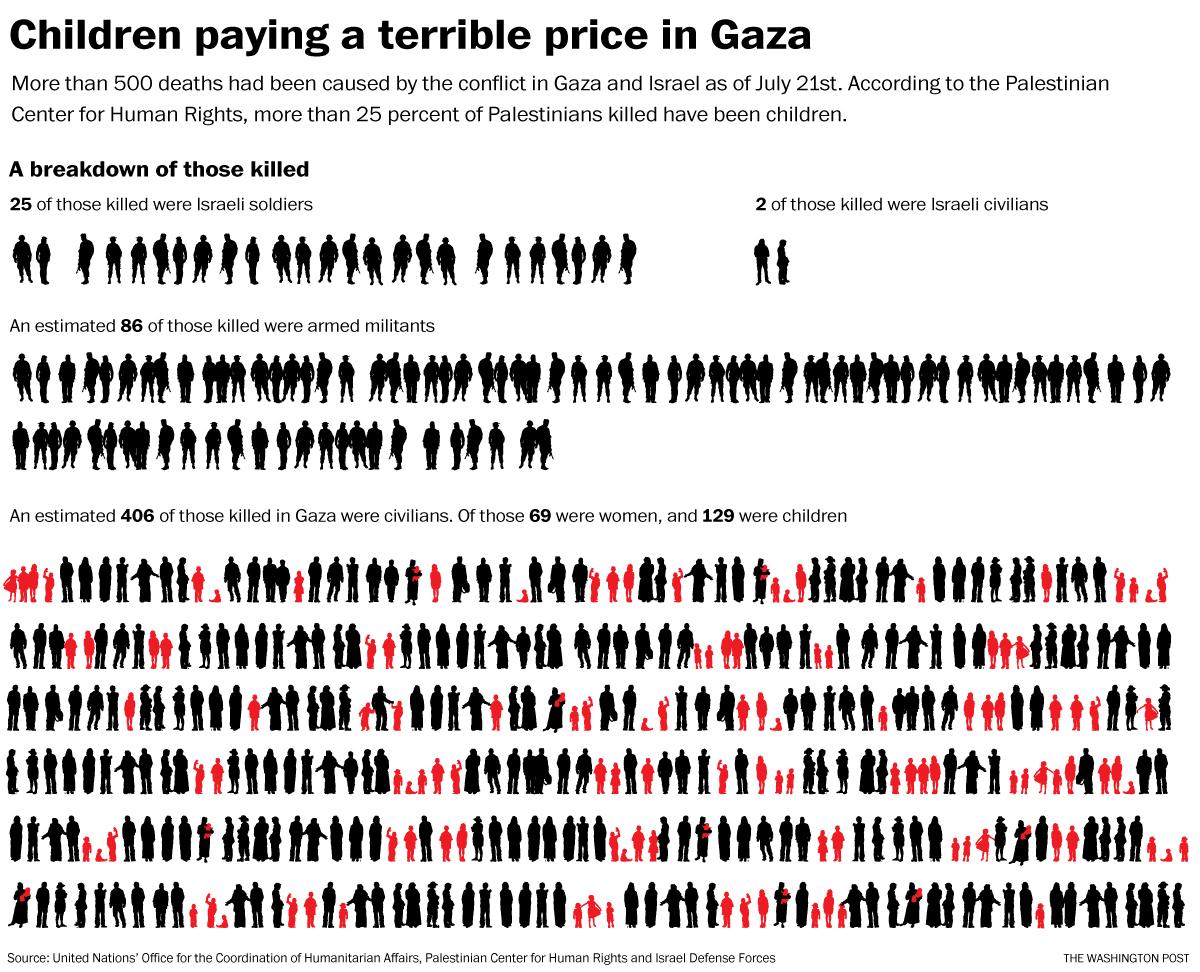 The Gaza War, which began in blood, has turned into a gothic horror story.  Faced with a Hamas defense that is far more dynamic and lethal than during Cast Lead, the IDF has lost 28 soldiers, almost three times as many as were killed during the entire 2009 invasion.  The Palestinian fighters have spent the past three years honeycombing Gaza and the border area with Israel with tunnels.  This is the same strategy Hezbollah used to surprise the IDF, when it killed nearly 130 Israeli soldiers.  The new strategy has allowed Hamas fighters to appear out of nowhere to engage Israeli troops directly.  It allows them to move almost at will underground from place to place depending on where they deem an attack to be likely of success.
Besides the high death count, Hamas appears to have captured IDF soldier, Shaul Oron, or at least have his body.  Oron was among the soldiers in the outdated 50 year old APC that was struck and destroyed by an anti-tank shell.  Seven were killed in this single incident.  Though the IDF initially denied a soldier had been kidnapped, Lt. Col. Peter Lerner told the Guardian today:
…The IDF could not rule out the kidnapping of an Israeli soldier by Hamas, despite denials late on Sunday by the Israeli ambassador to the UN, Ron Prosor.
My Israeli source tells me the IDF now believes that Hamas has Oron's body, but that he is not alive.  There was one survivor of the attack on the APC.  He claims to have seen the bodies of everyone else in the vehicle and no others were alive. Maariv reports that six bodies have been positively identified, but not a seventh.
Though I give my source and these media accounts the strong benefit of the doubt, Lerner's deliberate phrasing at least allows for the remote possibility that Oron is alive.  If he is, this changes the picture entirely for Israel, which finds the idea of leaving a soldier behind in enemy hands to be abhorrent.  It gives Hamas a powerful weapon in any ceasefire negotiation.  Even if Oron is dead, his body remains a bargaining chip.  For those readers who find this language to be cynical, I remind them that there are 600 Palestinian bodies, none of which are bargaining chips for anything.
In response to Hamas' new robust strategy and Israeli losses, the IDF has engaged in the carpet-bombing of the Shejaia neighborhood, with hundreds of dead.
The merciless, almost genocidal nature of the assault can be seen in a heartbreaking video, which I didn't have the heart to display here, of a Gaza civilian leading three medics to his home to try to retrieve a relative.  While the man lies in the rubble of his home, an IDF sharpshooter fires into his body repeatedly till he is dead.  The medics are forced to stand by helplessly throughout the murder.
Not to be outdone, Bibi Netanyahu today, uttered one of the more heinous, disgusting statements in the history of Israeli premiers.  He complained about the media coverage of Palestinian deaths:
"These people are the worst terrorists — genocidal terrorists," he said. "They call for the destruction of Israel and they call for the killing of every Jew, wherever they can find them."

"They want to pile up as many civilian dead as they can," Netanyahu added. "They use telegenically dead Palestinians for their cause. They want the more dead, the better."
In that single italicized phrase above, he turned Israel from a sympathetic figure in at least some portions of the world (i.e. the Congress and White House, at least) into outright ghouls.  Natasha Lennard, in one of the most outraged and eloquent of all articles I've read during this invasion, tore him to shreds, and rightfully so:
From the vantage point of New York, Israel's Operation Protective Edge is narrativized through a ghastly visual field of corpses. We saw the mangled, limp frames of four Palestinian children killed on a beach by Israeli missiles.

Then, today, a video emerged from the devastated neighborhood of Shujaiyeh that will knock the air from your lungs. The footage apparently depicts a young man, searching for his family, who is repeatedly shot by a sniper until dead. Like the volunteer who captured the execution on his cellphone, all we can do is watch as the man flails and falls still…

Israeli Prime Minister Benjamin Netanyahu…in a monstrous comment to CNN, he condemned Hamas for displaying "telegenically dead" Palestinians to garner international sympathy. His words bear picking apart.
Telegenic, of course, means that something is specifically suited to the medium of TV. Young children are arguably more telegenic than most other members of our species. So Bibi is not wrong: Dead children are more suited for TV coverage than most. This is terrible, this is true; this is true because it is terrible. If news media barters in horror and bathos, innocent dead bodies are prime currency.

Bibi says the "telegenically dead" are a Hamas PR tool, and in so doing he admits that Israeli fire is producing the sort of dead bodies that make news…

Bibi says that Hamas wants the Palestinian dead to visibly pile up. His words, as Glenn Greenwald pointed out, were hauntingly reminiscent of a comment made by Joseph Goebbels about Jews "send[ing] out the pitiable" to gain sympathy. His words are also of no consequence compared to the fact that the dead bodies, horrifyingly suited to media consumption, continue to pile up in Gaza.

…So long as "telegenic" has been an available concept, history has offered only one conclusion when presented with dead children's bodies. We often learn of the darkest points in modern history through visceral images of innocent dead. Images coming from Gaza now of Palestine's telegenic dead should confine this Israeli government to a reviled place in history. 
The final act in this carnival of horrors is an interview with Bar Ilan University professor, Mordechai Kedar.  He is one of Israel's best known Arabic language instructors, though his views of Arabs are distinctly racist.  But he's outdone himself in this Israeli radio interview (audio here for Hebrew speakers) in which he said:
"You have to understand the culture in which we live," said Kedar…Terrorists like those who kidnapped the children and killed them — the only thing that deters them is if they know that their sister or their mother will be raped in the event that they are caught. What can you do, that's the culture in which we live."

When Hadar said, "We can't take such steps, of course," Kedar continued: "I'm not talking about what we should or shouldn't do. I'm talking about the facts. The only thing that deters a suicide bomber is the knowledge that if he pulls the trigger or blows himself up, his sister will be raped. That's all. That's the only thing that will bring him back home, in order to preserve his sister's honor."
Let's put Bar Ilan in some perspective.  It's the same institution which offered Jewish terror-assassin, Yigal Amir his college degree.  It also offers an academic home and imprimatur to "Dr." Gerald Steinberg, whose NGO Monitor I've profiled here.  In the guise of an Orthodox religious institution of higher learning, Bar Ilan caters to some of the most rabid, racist Islamophobic views in Israeli academia.
The school released a joint statement with Kedar, undoubtedly written for him, which only makes matters worse, because it insults one's intelligence and says that what the professor clearly said, he didn't say:
…He "did not call, and is not calling to fight terror except by legal and moral means." It also said Kedar "wanted to illustrate that there is no means of deterring suicide bombers, and using hyperbole, he gave the rape of women as an example. In order to remove all doubt: Dr. Kedar's words do not, God forbid, contain a recommendation to commit such despicable acts. The intention was to describe the culture of death of the terror organizations. Dr. Kedar was describing the bitter reality of the Middle East and the inability of a modern and liberal law-abiding country to fight against the terror of suicide bombers."
In taking its audience to be fools and in trying to pull the wool over its eyes with this fraudulent statement, Bar Ilan only makes a fool of itself.  Of course, if Israel was a democracy which honored the rule of law, Kedar would be arrested by the police and charged not just with incitement, but with incitement to commit sex crimes.  This is more than just an assault against "Arabs," as Kedar would call them, but an assault on women.  No one harboring such abhorrent, aberrant views should be permitted inside the academy.  I used the word "aberrant," but of course the problem is that they're not aberrant at all in Israel.  And the fact that Kedar is a respected academic figure in Israel points to the deformity at the heart of Israeli society.
Finally, you'll find it no surprise that one of Kedar's major academic missions is to teach future IDF, Mossad and Shabak intelligence officers to speak Arabic so they can infiltrate the Israeli Palestinian community and ferret out nationalist firebrands who must be silenced in order to maintain Jewish predominance inside the country.  Kedar is a backbone of Israel's anti-terror apparatus.  He's probably even more valuable to Israeli intelligence than he is to Bar Ilan as a faculty member.
In fact, an Israeli source tells me that before beginning his academic career, he was a Lt. Col. in Aman, the IDF's intelligence corps.  The source would not say what his responsibilities were, but he deemed them "sensitive."  No doubt part of the Arab-killing apparatus.  Perhaps a bit of rape was involved as well?  Anything for the Jewish 'fatherland.'
One of Israel's leading Orthodox rabbis, Dov Lior, delivered a halachic ruling that it is permitted under Jewish law to kill Palestinian civilians and to 'destroy' Gaza.  He added that in wartime it is permissible for a nation attacked to "punish" the enemy population [civilians].  Lior is a leading settler rabbi and a key figure in Israel's far-right political scene.  The rabbi sent his rabbinic legal ruling to the defense minister, no doubt, in order to bolster the confidence of the 'good Jewish boys in the IDF' who are facing severe resistance from Hamas fighters.  Need I mention that this statement endorses not just ethnic cleansing, but genocide?  Should we 'proud' that the Nazis have earned a posthumous victory?  They're turned Jews into genocidal monsters.
Further, Lior doesn't just speak for his Orthodox followers in the extremist enclave of Hebron, he speaks for the entire nation because he's employed and paid by the State.
H/t to Ariel Shatil.