State Department Refuses to Deny Israel Spies on U.S., Feinstein Dubious as Well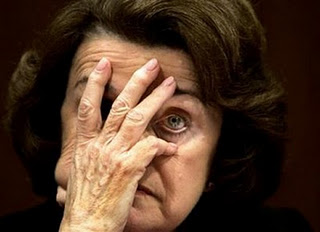 The Netanyahu government is in a dither over Jeff Stein's series of Newsweek reports about Israeli spying in the U.S.  They've wheeled out big guns like Amos Yadlin who've called Stein "delusional" and foreign ministry officials who've called Stein an "anti-Semite."  But they've gone one step farther in sending Yuval Steinitz, the minister for intelligence, to Washington to meet with key Congressional leaders like Sen. Dianne Feinstein.
The California senator, who heads the Senate Intelligence Committee and is a leading water-carrier for Aipac, wasn't totally convinced by Steinitz's protestations (if you read between the lines of this statement, which is pure DC speak):
"I met with the minister of intelligence this morning…" Sen. Dianne Feinstein, D-Calif., said after meeting Tuesday on Capitol Hill with Israeli National Security and Intelligence Minister Yuval Steinitz, who had vowed publicly to take up with her Newsweek stories describing Israeli spying on the United States as wide-ranging and pervasive.

But Feinstein's account of their meeting stopped short of an endorsement of Steinitz's vociferous denials that Israel spied on the United States.

"He was very direct in saying this is totally false, and he assured me that such was not the case," Feinstein said in an interview on Tuesday with CQ Roll Call (sub. required), a newspaper that specializes in Congressional coverage.

"I accept him at face value, yes," she added, "Until I find to the contrary."

"I'll do my due diligence too," she added.
Feinstein, despite my reservations about her politics, is no fool.  She knows that Steinitz is lying, therefore she said nothing herself that could be construed as a lie.  That's also the case with the State Department, whose spokesperson was asked point blank by the Jerusalem Post, whether it disputed Newsweek's findings:
The State Department declined to refute reports that Israel regularly spies on the United States, and has for decades…

Asked by The Jerusalem Post to confirm or contextualize the allegations, State Department spokeswoman Jen Psaki only said…:

"We don't comment on intelligence matters," Psaki said. "We have a close intelligence partnership with Israel, and value our cooperation with them in this field because it serves our mutual interests."
Ouch! That must hurt, Gen. Yadlin. The latter demanded, in the Israeli press, that his personal friends in the U.S. intelligence apparatus stand tall for Israel. Instead, there's been this same sort of yawning silence that you heard in the above non-denial denials.
As an aside, along with Steinitz's national security and intelligence portfolio, there are at least five ministries that deal with security of various sorts: interior, public security, home front, defense.  What does that tell you about Only Democracy in the Middle East?  A tad security-obsessed perhaps?