IDF Portrays Palestinian Hunger Strikers at Death's Door as "Ticking Bombs"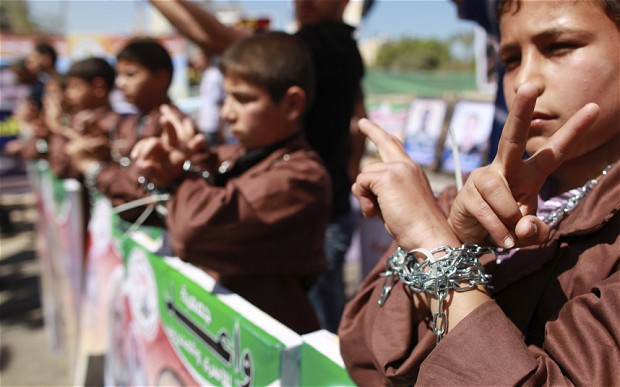 Almost half the Palestinian prisoners in Israeli jails have joined the mass hunger strike protesting against the widespread use of administrative detention.  Two of the strikers have reached Day 77 of their strike and Israel's Physicians for Human Rights NGO says no previous individual has fasted for more than 75 days.  Meaning the Palestinians have achieved a grim record.  There are reports in Haaretz that Egyptian and Palestinian negotiators are near striking a deal that would allow family visits, which Israel withheld during Gilad Shalit's confinement but never restored after he was freed.  Part of the deal would also restrict the arbitrary use of solitary confinement though it unclear what the specifics are.  One Palestinian prisoner has been in such confinement for ten years.  Though Haaretz mentions administrative detention as being part of the deal it does so in a vague way that offers no details.  The right-wing Times of Israel says Israel has agreed to "soften" the terms under which such detentions are used, which means…I don't know, what does it mean?
Such deals are notoriously fickle and evanescent, though Israel does have a gun to its head in the form of potential corpses piling up just before Nakba Day (Tuesday).  Recently it arrived at deals preventing the deaths of two previous hunger strikers who won their release.  So one hopes that the prospect of mass deaths will focus Israel's mind.
I'm struck by the Israeli media coverage of the hunger strikes which loudly proclaims the position of the security establishment.  Though the rest of the world sees the strikers as non-violent heroes, the IDF sees them as terrorists whose death is meant to provoke anti-Israel violence.  An anonymous security official (all such officials are anonymous in the Israeli media–God forbid they should have to attach a name and identity to their distortions and lies) even calls them "ticking bombs" (Hebrew), the same terminology used by Israel to describe suicide bombers on their way to carry out an attack.
This is the very sort of non-violent resistance liberal Zionists like Peter Beinart and Gershom "Where's-the-Palestinian-Gandhi" Gorenberg have demanded of the Palestinian people, yet when they embrace the tactic neither the liberal Zionists or the security apparatus credits it as such.  Instead, the victims are seen as terrorists by other means (than weapons).
The Walla article to which I linked also notes the satisfaction of the security establishment with the fact that the PA security services are expected to stamp out any angry Palestinian protests should any prisoners die.  In this sense, the PA is playing a role not unlike that of Jewish police collaborators in the Warsaw ghetto and elsewhere who helped the Nazis manage the captive Jewish population.
Related articles