Vanity Fair Touts Syria Commando Raid and Israeli Intelligence Coup that Never Was
הבל הבלים, הכל הבל: הדיווח של "יריד ההבלים" (וניטי פייר) על המבצע הסודי של הסיירת והמוסד בסוריה
Add Vanity Fair to the list of publications which publish fantasy profiles of Israeli intelligence feats that never were. You've read about the miracle of the start-up nation in Forbes and the Guardian and other querulous media outlets too gullible to care what they publish. In many of these stories, a freelance journalist often accepts an all-expenses paid government-hosted junket to visit Israeli high-tech startups where he's fed stories that make Israel look like Silicon Wadi. Why editors accept such journalistic duplicity is a mystery.
You've read in places like the Washington Post about the supposed agony faced by Israeli intelligence agents attempting to grapple with the moral implications of killing wanted Palestinian militants. And you've read breathless accounts of brave Israeli agents engaged in breathtaking feats intended to protect the precious lives of Israeli civilians.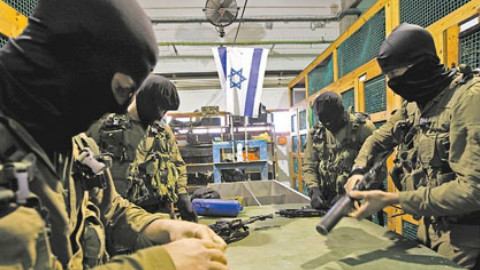 Now add to them this supposed profile of the intelligence operation that took IDF Sayeret Matkal commandos and Mossad communications specialists in helicopters deep inside Syria. Their mission: to bug the headquarters of an ISIS bombmaker who was developing a new technology that permitted concealing a powerful bomb inside a laptop computer which could bring down a commercial airliner.
Of course, the Israeli commandos successfully complete their mission and within weeks the bug yielded extraordinary results with direct transcripts of conversations in which the bombmaker revealed all of his secrets and thus permitted Israel to alert the U.S. and international aviation industry to this new threat.
There is only one problem with this account. It never happened. At least not as Howard Blum describes it. In fact, Israel had nothing directly to do with this intelligence coup. Indeed, there was a new bomb threat being developed by ISIS. And the secret was exposed by an intelligence agency. But not by Israel. Rather by the Jordanian intelligence agency, which had infiltrated the ISIS cell.
The Jordanians have extraordinary intelligence capabilities and they were the ones who told Israeli intelligence about the threat. Israel promptly conveyed it to the U.S. in order to curry favor with its colleagues in the CIA. President Trump was briefed about the new information and he promptly divulged it to the Russian foreign minister in his first White House meeting with him causing one of the first of many firestorms over Trump's big mouth and his propensity to blab our nation's secrets to Russians.
There are numerous statements in the piece which are real laughers. But the main one involves this passage:
What is apparent after interviews with intelligence sources both in Israel and the U.S. is that on the night of the infiltration the helicopters carrying the blue-and-white units came down several miles from their target. Two jeeps bearing Syrian Army markings were unloaded, the men hopped in, and, hearts racing, they drove as if it had been the most natural of patrols into the pre-dawn stillness of an enemy city.
Think about this: you are on an intelligence mission deep inside a hostile country to infiltrate a town controlled by ISIS. What means of transport do you choose? Jeeps with Syrian Army markings. As an IDF source derisively said in response to hearing about this claim:
"Drive into ISIS heartland in jeeps bearing Syrian Army markings??! If we really wanted Sayeret Matkal troops to commit suicide, why send them to Syria? We would have ordered them to do it [kill themselves] in Israel, to save the helicopters' fuel."
But I don't want to spoil the fun for you. Give it a read. It's got John Le Carre written all over it…and not a word is true. I have also confirmed with a well-informed source I've found completely credible in the past, that Blum's account of the raid is completely bogus.
Despite the enormous controversy faced by Israel throughout the world over its Occupation and refusal to recognize the national rights of Palestinians, there is a counterweight offered by the world's media which portrays Israel in the soft golden glow of Hollywood legend. It's unprofessional and downright unethical and Vanity Fair is party to it.