Iran Frees Five American Prisoners: One is a Mystery and a Sixth Remains Imprisoned
When I first heard the news that today was the day western sanctions were lifted against Iran AND five Americans were released from Iranian prison, it seemed like winning a diplomatic lottery.  What better news could there be if you believe in negotiations over war?  Not only had the Obama administration and Iran found a way to defuse an explosive issue that could easily have led to regional war, but the biggest cudgel the right-wing was using against the Democrats was also nullified.
The GOP argument went: not only did the nuclear deal not achieve enough, but Obama refused to use our leverage to compel Iran to change its "aggressive" behavior in the region.  Why didn't the U.S. demand that Iran cease support for Hezbollah and the Syrian regime while he had the Iranians by the short hairs?
While it's true that today's events don't resolve very large geostrategic issues like this, they do take a mighty big chunk out the Republican foreign policy agenda.  With one stroke both nations erased the messaging of the entire GOP presidential ensemble.  And Obama has ensured one of the major foreign policy legacies of his administration.
The IAEA has certified that Iran is well on the way to dismantling a major portion of its nuclear program: centrifuges, reactors, enriched uranium.  Now what will Republicans have to run on?  Benghazi?  Good luck to 'em.
A perfect example of the shorn wings of the neocons is this press statement released by Aipac:
Implementation Day of the Joint Comprehensive Plan of Action (JCPOA) is a turning point in Iran's strength as a terrorist state and in its ability to pursue regional dominance. Starting today, Iran can repatriate tens of billions of dollars from frozen foreign accounts, fueling its efforts to expand its reach across the region. The international community will dismantle its elaborate sanctions regime, and Iran will start down the path to legitimize its illicit nuclear program.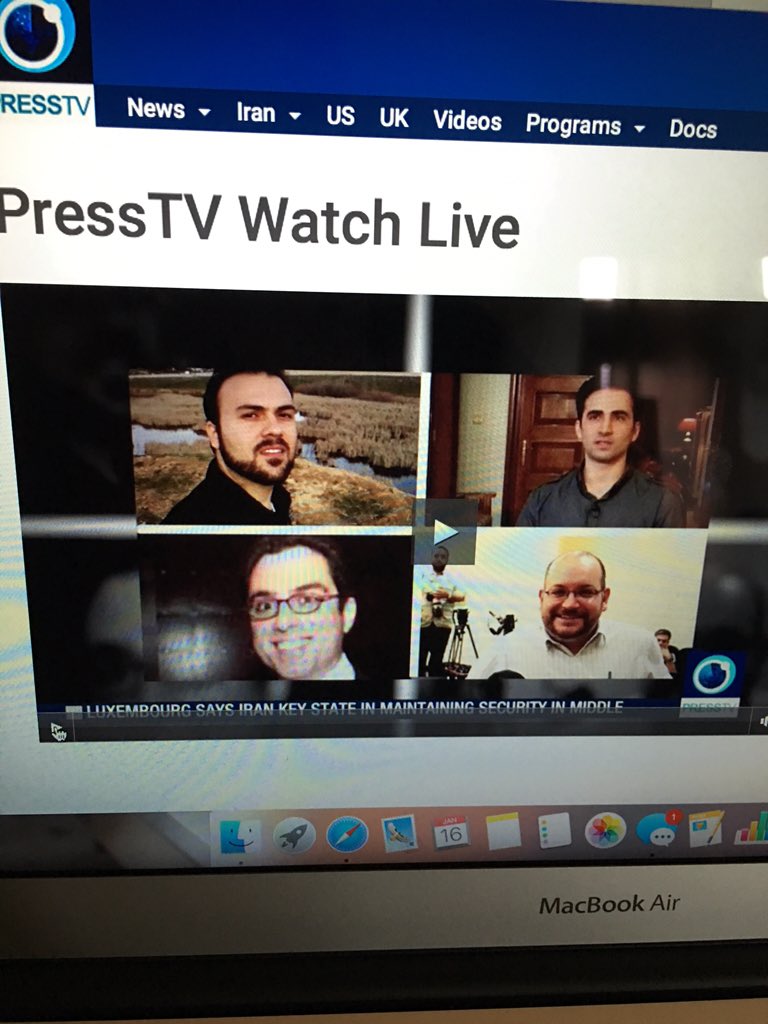 No, the Israel Lobby and the neocons aren't about to concede defeat graciously.  They're going to go down with the ship, all the way to the very last bitter end.
One of the Americans released I knew personally though not well.  He is Matt Trevithick, a former researcher at the Woodrow Wilson Center and the specialist in the peoples and cultures of Afghanistan.  Our acquaintance happened via e-mail and revolved around my blog.  I don't even remember why he wrote me.  I do recall he said that his mom was an editor at the Christian Science Monitor.  Given how difficult it is for me to get access to the mainstream media, I'd hoped that might be an asset.  But nothing came of it.  Eventually, Matt moved to the region and we lost touch.
I'm delighted he's freed.  I never even knew he'd been arrested and spent the last forty days in Evin Prison.  All I can say is: welcome to freedom, Matt and welcome home.
There are two other prisoners who pose great mysteries, each a different one.  The fifth detainee freed by the Iranians is someone that not only no one knew was in prison, but no one even knows anything about him except his name:  Nosratollah Khosravi-Roodsari:
Obama administration officials refused to offer any clues about Khosravi-Roodsari's background, why he was in Iran, or why he had been imprisoned, citing privacy laws.
Though the invocation of privacy laws implies that he may be a U.S. citizen (and a number of blogs have reported that he is), news media have been careful not to call him American in their reporting.  I've been asking contacts and sources who he is, but coming up short so far.  My guess, and this is purely speculation, is that he is an Iranian or dual national with ties to U.S. intelligence.
UPDATE: A well-informed source tells me that Khosravi-Roodsari did not leave Iran on his release as the other prisoners did.  This indicates, though doesn't confirm definitively, that he may not be a dual citizen.  It would also seem to indicate that he was not a U.S. intelligence asset.  If that were so, he would likely not remain in Iran.
The second mystery prisoner was not freed today.  But he is Iranian-American and has been in prison there for months.  He is Namazi Siamak, member of a prosperous family in the oil business.   He is both a businessman and someone with a vision that embraces reconciliation between Iran and the U.S.  No one knows why he was arrested.  Though a shameless pseudonymous smear about him was published in the Daily Beast just before his arrest.  That certainly might've raised suspicions about him and his motives within Iran's intelligence services.  At one time, Siamak had been affiliated with the National Iranian American Council, which has sworn enemies among the neocon Beltway set and the MeK.  The profile about him was so full of lies that it seemed to have been manufactured in an MeK sausage factory.
No one knows why he wasn't released today.   But I hope he will be soon.