"Remember the Stranger, for You Yourselves Were Strangers"
This could just as well be the motto of the United States as one of the cardinal verses in the Torah.  It should be stamped on Bibi Netanyahu's forehead since he violates this precept virtually every day that he maintains prison camps for African refugees, who he refuses to grant asylum or even an application process.  For those who take the passage to heart, it means be humble, remember the refugee, show kindness and hospitality to the less fortunate.  The Republican presidential candidates apparently don't read their Bibles.  Or if they do, they're reading the wrong passages.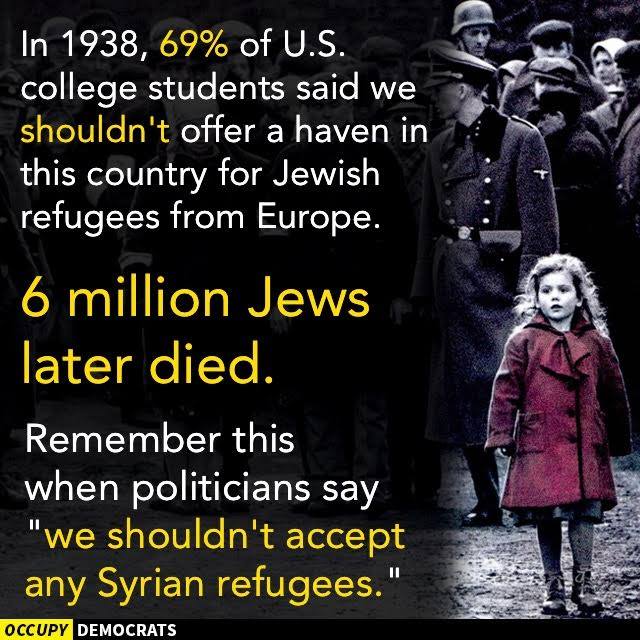 The GOP is now making hay out of the Paris terror attacks.  Each candidate falls all over himself to be more punitive, more intolerant than the next.  23 governors, including one Democrat, have said they will refuse to accept Syrian refugees within their states.  This, despite the fact that governors have no say in immigration matters and may not expel legal refugees.  That's the job of the federal government.  But don't tell the governors that.  It might educate them about the separate powers delegated to the states and federal government.  A little something called the Constitution.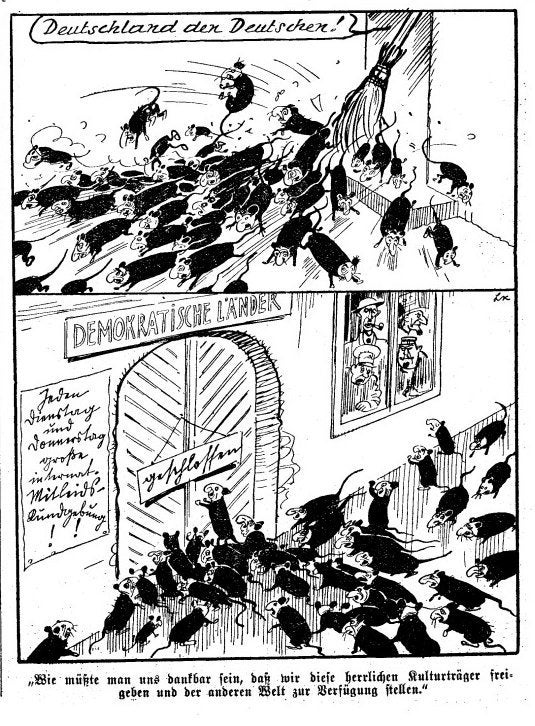 Another historical fact worth mentioning: in 1938, 937 European Jews boarded the S.S. St. Louis en route to America where they hoped to find refuge from Hitler's encroaching hordes.  They waited for months in Cuba and other sites while their supporters sought a safe haven in this country.  At long last, they gave up and sailed back to Europe.  Where 250 of them were swallowed in the Holocaust and exterminated along with 6-million other European Jews.
There is a catastrophe enveloping Syria in which nearly 200,000 civilians have died.  500,000 Syrians have fled toward Europe and any other safe harbor they might find.  These are not terrorists, not ISIS, though most are Muslim.  There is nothing criminal in being either Syrian, a Muslim or a refugee.  Despite what viewers saw on this FoxNews panel which quoted approvingly Winston Churchill's bit of colonial Islamophobia: "Islam is as dangerous in a man as rabies in a dog."  It would take FoxNews to dredge up 19th century British religious-cultural imperialism, spoken by the leader who epitomized empire in all its worst forms.
As an antidote: remember Emma Lazarus' (a former Jewish refugee, herself) immortal words inscribed on the Statue of Liberty?
"Give me your tired, your poor,
Your huddled masses yearning to breathe free,
The wretched refuse of your teeming shore.
Send these, the homeless, tempest-toss'd to me,
I lift my lamp beside the golden door!"
Yet the idea of a mere 10,000 Syrian refugees "flooding" our shores is enough to send the GOP candidates into apoplexy.  I am glad that Democrats like Obama and Sanders are responding in kind.  That they are not caving in to this racist xenophobia.