Israeli TV Poll, What to Give Barack Obama for His Birthday? 48% Say: Ebola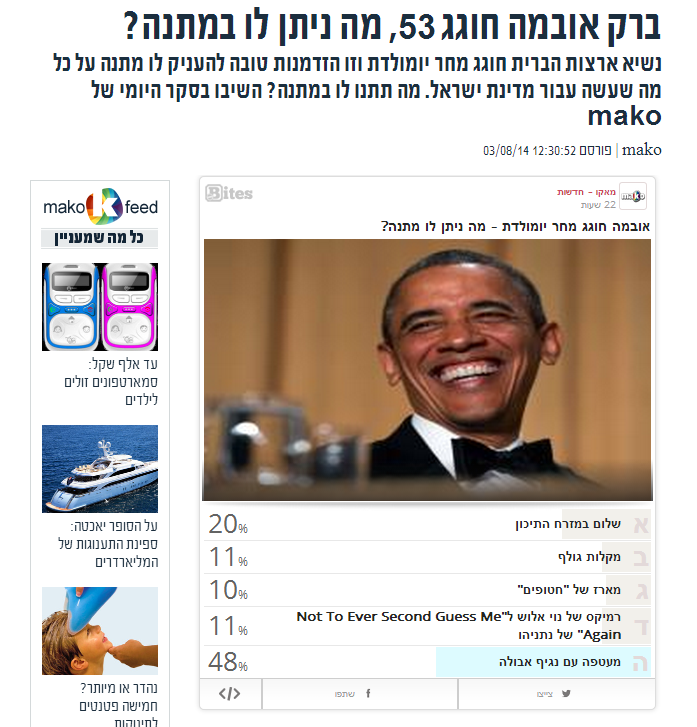 Israel's Channel 2 is the country's most popular TV station.  Its website, Mako, published the results of a poll asking what listeners wanted to get Pres. Obama for his 53rd birthday tomorrow.  20% wanted to give him "peace in the Middle East."  Nice.  10% wanted to give him the Noy Aloosh remix of "Don't Second Guess Me Ever Again." Cheeky, but funny.  11% said: golf clubs.  You know your man.  And the winner, with 48% was: "an envelope containing Ebola virus." Say what?
I could understand if this was Hustler Magazine or even the Daily Mail, known for trash journalism.  But the country's most popular TV channel?!  Even if we chalk this up to a bad case of media stupidity, and assume that those who responded to the poll wanted to be in on the joke, doesn't this tell us quite a bit about the Israeli political environment?  The leader of Israel's only real ally in the world is despised so much that Israelis would like to see him dead.
There's an added subtle bit of racism in the fact that Islamophobes and the Israeli and American far right believe Obama is a Muslim born of a Kenyan father.  Wishing him a fatal illness that originated in Africa and  is ravaging parts of the continent right now seems a conscious or unconscious racist allusion to his origins.
H/t to Uriah Canaff.