Gaza War: Day 5, Palestinian Dead: 121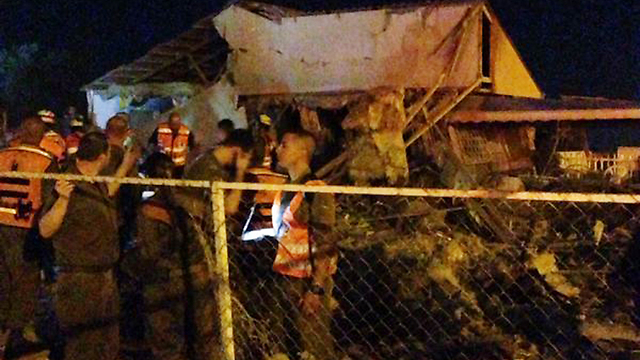 Every day the war continues, Israel seems to find ever more inventive ways to kill Palestinians.  Just overnight, Israel time, 14 Palestinians died in Israeli air attacks.  Palestinian rockets traveled as far north as Haifa, and there were several strikes in Beersheba and Ashdod.  A gas station was struck by a missile Iron Dome failed to hit and caused a conflagration that cost one Israeli his hand, which was amputated.  Nine others were wounded lightly.  A home in Beersheba received a direct hit and was destroyed.  One woman was injured in that attack.
A UN report finds that 77% of Palestinian dead are civilians and over half are women and children.
An Israeli poll finds that 91% support the government's approach to this crisis.  That's not surprising since there is an automatic patriotic rallying round the flag in these situations.  Even the so-called liberal-left parties dare not upset the hawkish consensus.
Part of that jingoistic consciousness is reflected in the IDF Givati commander who called for a holy war (in English) against Gaza:
History has chosen us to be the sharp edge of the bayonet of fighting the terrorist enemy "from Gaza" which curses, defames and abuses the God of Israel's battles.
This is no mere soldier.  He is Col. Ofer Winter, the commander of one of the mainstays of the IDF infantry, the Givati Brigade.  This is the unit largely charged with enforcing the Occupation in the West Bank.  It's known both for its brutality and its heavy presence of Orthodox nationalist Jewish personnel.  Winter is no lone extremist like the Israeli dregs who kidnapped and murdered Mohamed Abu Khdeir.  He is a senior IDF commander.  He speaks for not just his troops, but the nation.
Israel is a nation that has abandoned politics in the conventional sense of the term and turned toward religious fanaticism.  Israelis, never ones to embrace diplomacy or realism in pursuit of their security, increasingly view themselves as 'chosen' by a Jewish God.  Any other nation that threatens them must therefore be an enemy of God.  That allows fundamentalist extremists to cast the fight in Biblical terms of Gog and Magog.  Thus the war in Gaza becomes a holy war against Muslim Jew haters, rather than a political conflict that may be settled by compromise.
Imagine for a moment what Gazans can expect from the bloodthirsty killers Winter will let loose upon them? If now there are "only" 121 dead, how many more will there be after the ground invasion begins and Israel has boots on the ground.  With air power you kill a "limited" number.  But with troops in the streets, coming face to face with Palestinians on a daily basis, the opportunity for slaughter is even greater.
A few days ago I predicted the death count for this operation would be akin to the last major offensive in which 150 died.  Clearly I was wrong.  The ground invasion hasn't event begun and we've almost reached that number.  If it does happen, hundreds more will die.
Bibi Netanyahu, clearly beginning to worry about international disgust with Israel's wholesale civilian slaughter said that no amount of international pressure can turn Israel from its path.  What he meant to say is: "I can't hear you!"  In other words, he's daring the world to speak up against him.  Will the world call his bluff?
Today marked the first demonstrations in major world cities against the assault.  There was a large protest in London and other places.  This must be only the beginning.  The U.S. response has been shameful.  The Obama administration released a statement denouncing the rockets attacking Israel while making no mention of Israel's indecent attack on Gaza's civilian population.  The only useful part of the statement was a warning against a land invasion.  This is precisely the sort of response Israel hoped for.  Only slightly critical, thus allowing the killing to continue unabated.
This is a deeply alarming development.  It signifies Israel falling into a nationalist-fundamentalist stupor.  One from which it may be impossible to exit.