Operation Solid Rock, Gaza Invasion, Begins

Bibi Netanyahu, desperate to distract the public from the serial ineptitude of his police force in preventing two appalling kidnap-murders, one of Israeli youths and another of a Palestinian, has begun Operation Solid Rock (Tzuk Eytan–could also be translated as "Mighty Cliff").  The IDF is mangling the translation of the phrase by calling it "Operation Protective Edge."  That isn't even close to the Hebrew.  But who ever accused the IDF of being precise and accurate?
IDF PR flacks had a problem: they couldn't call it "Solid Rock" in English since that conveys strength and aggression.  By calling it "Protective Edge" they successful conceal the aggression in a phrase that has defensive connotations, making it perfect for foreign consumption.  Hasbara at work!
It has flown 90 sorties in the past 24 hours.  At least nine Gazans are dead in the past two days.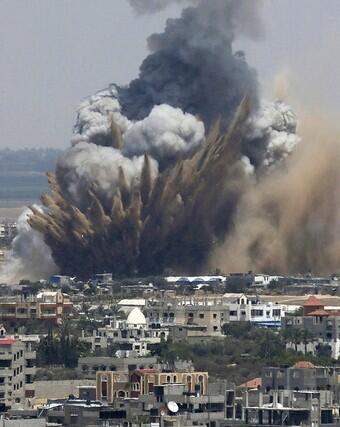 Now, finally IDF soldiers, who've been posting to Facebook pictures of their bodies engraved with messages calling for revenge (for the murder of the three Israeli youths near Hebron) will get their wish.  They can slaughter (almost) all the Gazans they wish.
I'm tempted to call it Operation Falling Off a Cliff, for that is what these military adventures always turn into.  A military source has told my Israeli partner that "a ground invasion is inevitable," but "it will be limited."
Typically uncouth Israeli officials like to use such snappy phrases as "cutting the grass" or "the landlord's gone mad" to describe these regular love letters from the IDF to Hamas.  These recall the hard-hearted Pharaoh of the Book of Exodus.  Remember that his hard-heart led to the liberation of the Israelites and the founding of their nation in their own land.
This assault will be compared to Operations Cast Lead and Pillar of Cloud, the first a massive invasion and the second a more limited operation.  I can't believe either Bibi or the Israeli public has the stomach for another Cast Lead.  So this will likely be closer to Pillar of Cloud.  During that incursion "only" 150 Gazans were killed and no Israelis.  The casualty count will be similar this time.
All of these deaths are needless of course.  They're testimony not just to Israel's obduracy and rejectionism, but to the indifference of the international community which needs to come to its senses and intervene to stop the slow-mo decimation of peace, justice, and Palestinian sovereignty.
Israel is a garrison nation in a constant state of war with its neighbors.  Nothing and no one within Israel is capable of transforming the country into a peaceful country.  That's why the rest of the world better do it before Israel lights the match and the entire region bursts into flame.
In a related matter, Avigdor Lieberman withdrew his party from its alliance with Netanyahu's Likud.  The two parties will continue in the same ruling coalition, but Lieberman will now be free to voice his criticisms in a fiercer manner.  Not to mention he can position himself for a run for PM in the next elections unencumbered by a too-close relationship with Bibi.  Ynet speculates that the reason for the break up is Netanyahu's less than fierce response to the Hebron kidnapping.  Lieberman wanted fireworks in Gaza.  All Bibi's offered is a single sparkler that fizzled out quickly.  Undoubtedly, Operation Tzuk Eytan is a response to Lieberman's criticism.  Much of what Bibi does including killing Gazans is dictated by trying to outmaneuver his political competitors and seeking political advantage.
Indeed, it appears Bibi has outmaneuvered his hawkish ministers once again.  During the past week, he'd been mercilessly attacked by Lieberman and Naftali Bennet for his wimpish response.  Now he gets to go on the offensive.  The PMO, in a statement aired on Israel Radio, assailed them for "behavior that was irresponsible, brat-like and wanton" in attacking security forces in their hour of need as they go forth to battle against Israel's foes in Gaza.  Further, Bibi's media messengers claim that such divisiveness only plays into the hands of the enemy, which hopes that the nation is divided and unable to deal decisively with Gaza.
There are one hundreds ways to refute this nonsense, but no need.  What's important is to see how tactically brilliant, but strategically vacuous Netanyahu is.