Casey Kasem, Arab-American Child of American Dream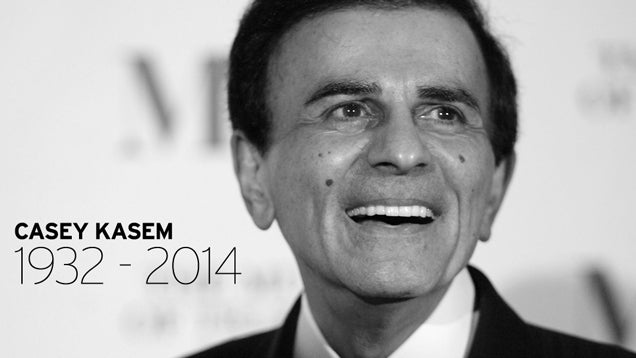 I met Casey Kasem in 1984.  I was then working in my first job, as a fundraiser and regional director for New Jewish Agenda in Los Angeles.  One of my main goals was to host a gala fundraiser for the grassroots group, which was always living financially from hand to mouth. NJA was the most radical Jewish organization on the national scene.  It supported gay rights when almost no one outside the gay community did.  It supported a two-state solution when no Jews, let alone Jewish organizations did.  It supported the Central American Sanctuary movement when it was targeted by Ronald Reagan's Justice Department.
NJA was so controversial that when local JDL killers murdered the Arab American Anti Discrimination Committee's regional director, Alex Odeh, we put an ad in the Jewish Journal mourning his loss.  The result was a threatening phone message from one of the killers saying we'd end up "like that dead sand Nigger."  That was the first time I've ever willingly invited the FBI to speak to me.  I did so because the call came to my office and I didn't know how much danger I faced by being there.  Other members of the organization disagreed with my cooperation; and I'd probably have a lawyer present if I had to do it again.  But when one's life is in danger, and one doesn't have much experience with such things, one does as I did.
It was in this context that I set about organizing NJA's first major fundraising event.  I can't even remember how we got to talking about Casey Kasem.  But someone suggested asking him and we did.  And he was extraordinarily gracious and kind.  He invited us to his sumptuous Beverly Hills palace of a home where we briefed him about the event.  That's where I first heard his personal story: the child of Lebanese immigrants, he grew up near Detroit in its large Arab-American community.  I don't recall whether he told me how he came from the Midwest to Los Angeles.  But in 1970 he got his big break and his show, America's Top 40, went national.
In 1984, Casey was at the height of his popularity.  All the more reason to acknowledge that his embrace of this fledgling Jewish group of 'rabble-rousers' was an extraordinary thing.  In Hollywood, celebrities dish out their popularity in teaspoons on behalf of charities.  If you have even a whiff of controversy, you're generally avoided.  Casey didn't care about any of that.  He did what he thought was right and he liked what we were doing.
Growing up a poor Arab-American kid, he hated what happened to his country and the hatred between Israelis and Jews.  Today, perhaps he might be seen as a liberal dreamer.  He certainly was no radical.  But he was reasonable and decent and saw no reason why Arabs and Jews shouldn't try to find what they had in common instead of what drove them apart.  In those days, that made Casey a totally out-of-the-box personality.
Another amazing figure in the Los Angeles of that time was Rabbi Marshall Meyer.  He was the dean of the Conservative Jewish rabbinical seminary in Argentina during the military junta, which he detested.  After the overthrow of the junta, he came to Los Angeles to be vice president at what was then the University of Judaism.  I don't think Marshall was terribly happy.  The UJ wasn't exactly a hotbed of activism.  It was more a sleepy rabbinical outpost.
He later left to become the founding rabbi of Bnai Jeshurun.  The amazing hotbed of Westside Jewish life would never have become what it is today without Marshall's passion, charisma and towering moral stature.  Unfortunately, Marshall died way to early.  But he left a huge legacy of rabbinical moral activism.
We approached Marshall about joining Casey as our honorees.  They both agreed.  The president of the Beverly Hills Design Center agreed to host our event at his lovely home.  We went from being an "out there" group to being on the cutting edge of Jewish cool.  Perhaps we were on the far cutting edge, but we were a force to be reckoned with.  On the strength of Marshall and Casey's reputations we broke into some liberal Hollywood celebrities consciousnesses like Richard Dreyfuss, Ed Asner, and others.  It was a fabulous event and put us on the map.
Now Casey is gone.  But like Marshall, Casey leaves a tremendous legacy of kindness and sympathy for the downtrodden.  He is a true representative of the American Dream.  I know he'd be tickled by the NY Times obituary headline which called him "an American voice."  For this child of immigrants to become America's voice was truly a dream and a privilege.
Our country was blessed to have two such amazing figures as Casey Kasem and Marshall Meyer.  My life too was blessed to have known them.