Turkish Intelligence Identifies 174 IDF Soldiers Accused of Mavi Marmara Massacre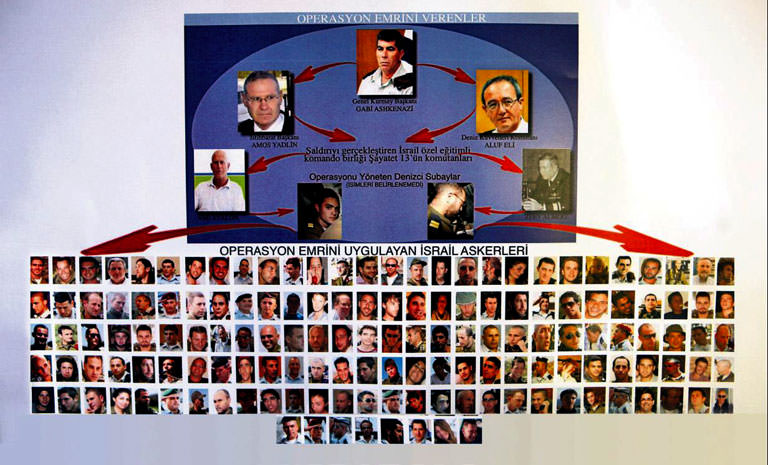 Turkish media reports (Hebrew report and Zaman's English version) that a special Turkish intelligence unit delved into social networking sites and used its fluency in the Hebrew language to identify 174 IDF personnel who participated in the Mavi Marmara assault.  By reviewing frame-by-frame video footage of the attack, the investigators have also identified those who killed the nine Turkish passengers.  The list has been transferred to the Turkish prosecutor pursuing the case and will eventually be given to Israel as well.  Israel will be asked to confirm whether or not the individuals took part in the operation.
Among the methods used to expose the soldiers was a review of Facebook and Twitter sites in which soldiers said they participated.  Friends of the soldiers also at times inadvertently helped confirm their participation.  Of the 174 identified, the intelligence officers found photographs of 140 of them.  The Turks could not identify 10 individuals who they believe took part.
At the top of the list sits Bibi Netanyahu, described as having "central responsibility" for the attack.  The list also includes all the cabinet ministers, with special authority attached to Avigdor Lieberman and Ehud Barak.  Among the senior military command, the Turks name chief of staff Gabi Ashkenazi, Navy chief Eliezer Marom, and intelligence chief Amos Yadlin.  Marom, it should be noted enjoys ogling show girls at strip clubs almost as much as having his commandos shoot Turks in the back.
This is the list published by the Turkish newspaper Sabah, which Ynet describes as one of the country's most widely distributed and having a close relationship with the government.  I am printing it here first because it's already been published by a major Turkish news outlet and because it will allow other researchers to confirm or disprove participation by these individuals in the attack.  I have not vetted the names myself, but others will and Israelis can also help in this endeavor:
Agai Yehezkel, Aharon Haliwa, Alex Shakliar, Amir Ulo, Amir Abste, Amir Shimon Ashel, Anna Strelski, Anton Siomin, Aram Zehavi, Ariel Brickman, Ariel Karo, Ariel Rifkin, Ariel Yochanan, Arnon Avital, Assaf Bryt, Avi Balut, Avi Bnayahu, Avi Mizrakhi, Avi Peled, Aviad Perri, Aviel Siman, Avihay Wizman, Avihu Ben Zahar, Avishay Levi, Avishay Shasha, Aviv Edri, Aviv Kochavi, Aviv Mendelowitz, Baruch (Barry) Berlinsky, Basam Alian, Ben-Zion (Benzi) Gruver, Bnaya Sarel, Boaz Dabush, Boaz Rubin, Boris Schuster, Dado Bar- Kalifa, Dan Dolberg, Dan Harel, Daniel Kotler, David Shapira, David Slovozkoi, David Zini, Eden Atias, Eden Atias, Efraim Aviad Tehila, Efraim Avni, Eitan Ben-Gad, Elad Chachkis, Elad Itzik, Elad Shoshan, Elad Yakobson, Eli Fadida, Eli Yafe, Eliezer Shkedi, Elik Sror, Eran Karisi, Erez Sa'adon, Eyal Eizenberg, Eyal Handelman, Eyal Zukowsky, Gil Shen, Gur Rozenblat, Gur Schreibmann, Guy Givoni, Guy Hazut, Haggai Amar, Hanan Schwart, Harel Naaman, Hila Yafe, Ido Nechushtan, Ilan Malka, Itay Virob, Liran Nachman, Michelle Ben-Baruch, Miki Ohayon, Moshe Tamir, Nadav Musa, Nathan Be'eri, Nezah Rubin, Nimrod Schefer, Nir Ben-David, Nir Dupet, Nir Ohayon, Niv Samban, Noam Keshwisky, Ofek Gal, Ofer Lahad, Ofer Levi, Ofer Winter, Ofer Zafrir, Ofir Edri, Ohad Girhish, Ohad Najme, Omer Dori, Omri Dover, Or Nelkenbaum, Oren Bersano, Oren Cohen, Oren Kupitz, Oren Zini, Pinkhas Buchris, Raz Sarig, Ron Asherov, Ron Levinger, Ron Shirto, Ronen Dan, Ronen Dogmi, Roi Elkabetz, Roi Oppenheimer, Roi Weinberger, Sahar Abargel, Shai Belaich, Shaked Galin, Sharon Itach, Shaul Badusa, Shay Unger, Shimon Siso, Shiran Mussa, Shlomit Tako, Tal Alkobi, Tal Bendel, Tal Kommemi, Tal Ruso, Tamir Oren, Tamir Yadai, Tom Cohen, Tomer Meltzmann, Geva Rapp, Tslil Birbir, Udi Sagie, Uri Ron, Yair Keinan, Yair Palay, Ya'akov(Yaki) Dolf, Yaniv Zolicha, Yaron,Finkelman, Yaron Simsulo, Yehosua (Shuki) Ribak, Yehu Ofer, Yehuda Fuchs, Yehuda Hacohen, Yigal Slovik, Yigal Sudri, Yizhar Yona, Yoav Galant, Yoav Gertner, Yoav Mordechai, Yochai Siemann, Yochanan Locker, Yom-Tov Samia, Yonathan Barenski, Yonathan Felman, Yoni Weitzner, Yossi Abuzaglo, Yossi Bahar, Yossi Beidaz, Yotam Dadon, Yishai Ankri, Yishai Green, Yuval Halamish, Zion Bramli, Zion Shankour, Ziv Danieli, Ziv Trabelsi, Zuf Salomon, Zvi Fogel, Zvi Yehuda Kelner.
Nana also notes that some of the names include commanders of military units which seem unlikely to have been involved in the naval assault such as the armored corps, and officers like Ami Ayalon (former Shayetet 13 commander) and Zvi Fogel, who retired well before the attack.  Ynet reports (English) that among the list are a D9 Caterpillar tractor operator and infantry and artillery officers.  Ynet's English story basically claims that none of those on the list participated in the Mavi Marmara attack, though I find that dubious unless they can provide greater proof.
MAJOR UPDATE: Walla contradicts the report above, and quite authoritatively, by saying:
A senior IDF officer said "the list represents a deep understanding of the both the names of the officers [involved], their roles and their operational involvement [in the assault], and we believe that only the involvement of Israeli sources could have provided the Turks with such information."
The story notes that parents of members of Shayetet 13 have with great anxiety found their sons' names and photos on the list.  As far as I'm concerned, those who claim the list is garbage don't know what they're talking about.  Certainly, there may be mistakes on it and possibly names found in the Cast Lead list appear here and should not.  But if a senior IDF officer and parents of Shayetet 13 soldiers are conceding the overall accuracy of the list, that settles the point incontrovertibly.
Walla reports separately that all IDF members of the list have been warned by the IDF chief military prosecutor that they must not enter Turkey for fear of arrest (this seems beyond obvious).  So long to those lovely Israeli vacation jaunts on the Bosporous!
Zaman is reporting a government statement that the Turkish prosecutor did not request any investigation by Turkish intelligence concerning the Mavi Marmara, though it pointedly does not claim that Turkish intelligence was not involved in preparing this list.  It also states that IHH did provide such a list to the prosecutor.