Bibi's Physician Says He's Plump, Puts Him on 'Gaza Diet'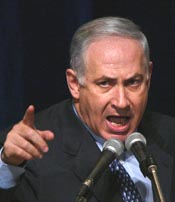 Bibi's physician, after a recent physical exam, noted the prime minister was healthy but needed to lose a few kilograms.  Would it surprise you to learn that his doctor was a certain Dr. Dov Weissglas, and that the well-known diet doctor recommended his patented "Gaza diet" as a way to lose the required weight?  Yup, go hang for a few days with a Gazan family and subsist on their UNRWA hand-outs.  That'll bring the weight back under control.
Weissglas also recommended that Bibi stay away from Gaza's famous Roots Club & Restaurant, which had come highly recommended by the government's press office director, Dan Seaman.  He definitely might regain those pounds if he hung out with the foreign reporters there drinking highballs and whatnot.