IDF Kidnaps U.S. Citizens, Nobel Laureate in Gaza Waters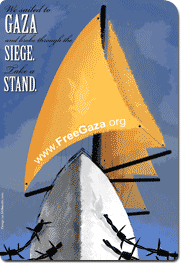 Let anyone who claims there is no difference between a Likud or Kadima government take note of Israel's act of piracy on the high seas today when it surrounded an unarmed former ferry carrying 23 human rights activists (including a former U.S. Congresswoman, a Nobel laureate and 21 others) and humanitarian aid to Gaza.  In similar past circumstances, the Olmert government allowed several such ships to dock in Gaza with their humanitarian cargo.  The ship seized earlier today was attempting to break Israel's siege against Gaza, which itself is a violation of international law.
All American citizens, whether you agree with the politics involved or not should be outraged by this violation of the norms of international and maritime conduct.  American officials should be demanding that its four citizens be released immediately.  Israel had no right to intercept this ship, nor to impound it or detain its passengers.  It has no right to forcibly transfer them to Israeli territory.
The Free Gaza Movement released this statement by former Rep. McKinney:
"This is an outrageous violation of international law against us. Our boat was not in Israeli waters, and we were on a human rights mission to the Gaza Strip," said Cynthia McKinney, a former U.S. Congresswoman and presidential candidate. "President Obama just told Israel to let in humanitarian and reconstruction supplies, and that's exactly what we tried to do. We're asking the international community to demand our release so we can resume our journey."
And Nobel Laureate Mairead Maguire made the following protest:
"The aid we were carrying is a symbol of hope for the people of Gaza, hope that the sea route would open for them, and they would be able to transport their own materials to begin to reconstruct the schools, hospitals and thousands of homes destroyed during the onslaught of "Cast Lead". Our mission is a gesture to the people of Gaza that we stand by them and that they are not alone" said fellow passenger Mairead Maguire, winner of a Noble Peace Prize for her work in Northern Ireland.
I should add that the Israeli navy will impound the ship in order to inhibit the future work on the FGM.  Pressure must be exerted to get Israel to release the ship undamaged (it is highly likely that Israel will render the ship inoperable or permanently crippled if it ever does return it).
FGM suggests that those who wish to help may contact the following:
CONTACT the Israeli Ministry of Justice
tel: +972 2646 6666 or +972 2646 6340
fax: +972 2646 6357
CONTACT the Israeli Ministry of Foreign Affairs
tel: +972 2530 3111
fax: +972 2530 3367
CONTACT Mark Regev in the Prime Minister's office at:
tel: +972 5 0620 3264 or +972 2670 5354
mark.regev@it.pmo.gov.il
CONTACT the International Committee of the Red Cross to ask for their assistance in establishing the wellbeing of the kidnapped human rights workers and in securing their immediate release!
Red Cross Israel
tel: +972 3524 5286
fax: +972 3527 0370
tel_aviv.tel@icrc.org
Red Cross Switzerland:
tel: +41 22 730 3443
fax: +41 22 734 8280
Red Cross USA:
tel: +1 212 599 6021
fax: +1 212 599 6009