Breaking: Israeli Police Execute 22 Year-Old Palestinian in Nazareth, Then Lie About It
Tonight, Israeli police in the village of Cana in lower Nazareth attempted to arrest (Hebrew) a Palestinian resident of the town on suspicion that he's tossed a stun grenade as part of a family conflict.   When they arrived, this video shows Khairuddin Hamdan, age 20, attacking the vehicle with what appears to be a bar, though police claim it was a knife.  He appears to be striking the vehicle, possibly to protest the arrest of the original suspect.
The video then shows a police officer exiting the vehicle and immediately pumping several bullets into Hamdan from close range (perhaps 4-6 feet away).  Hamdan immediately crumples to the ground.  This was little more than a cold-blooded execution.  In western nations, when someone attacks a police car they usually aren't murdered for it.
The police, perhaps believing there was no video of the killing, provided Ynet with a patently false account of what occurred.  They claimed both that Hamdan drew a knife and that he attempted to stab them.  The video clearly indicates there was no attempt to stab them as they were inside their vehicle and never in danger.
Now that the police have been caught red-handed in outright murder, their story will undoubtedly change to account for the new evidence.  The new story will undoubtedly be just as lame as the first one.
They will angrily search out the source of the video.  They'll arrest the owner of the surveillance camera and confiscate the footage.  They'll claim the footage was doctored or that it omits some preceding incident that led to the killing.  They'll try their damndest to get themselves off the hook.  But they'll fail in the end.
I'm afraid it won't matter much because Israeli Jews don't care whether their police officers murder Palestinians.  It's a minor offense.  No one will be held accountable for this.  An investigation will find that the officers "feared for their lives" and the use of firearms was justified.  It will be business as usual because Palestinian lives are cheap.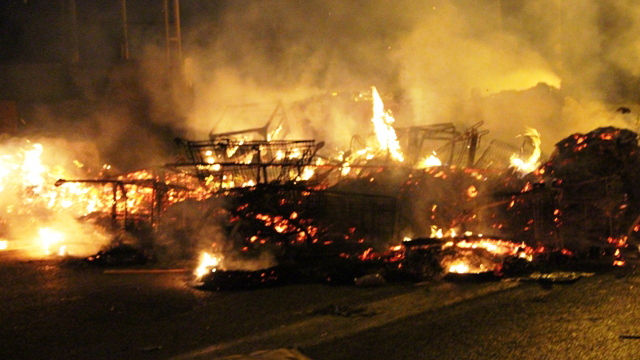 Cana, where the killing took place, is often identified with the Galilean village of the same name in the story of Jesus.  There he attended a wedding and, when the wine ran out, he transformed water into wine.  Israeli police are having much less success at transforming the facts of this case into the fraud they've concocted.  They should've let Jesus perform the miracles and done their own jobs right, instead of acting as hired killers for the State.
Palestinian witnesses to the murder said that the confrontation could've been resolved without a resort to gunfire and that the police are little more than criminals themselves.  Residents made clear that they don't want the police in their midst at all as they don't trust them to do anything but what happened last night.  The video clearly indicates why.
The false police account is a feeble attempt to link this murder to the string of terror attacks by Jerusalem Palestinians against Israeli Jews.  But this incident appears not to be a terror attack at all, unless you count the police murder as a terror attack.
After the killing, young residents of the town rioted, lit fires and closed access to the community.
If Israeli police wish to light a fire not just in Jerusalem, but in all Palestinian communities in Israel, they couldn't do better than what they did tonight.  Instead of a Jerusalem Intifada, we might have an Israel-wide Intifada.  Undoubtedly, Pres. Reuven Rivlin will be visiting the village and there will be touching pictures of him embracing the local imam or mukhtar.  He will speak soothing words and talk about historic injustices done to Palestinians.  All of which will mean precious little as nothing will change inside Israeli society.